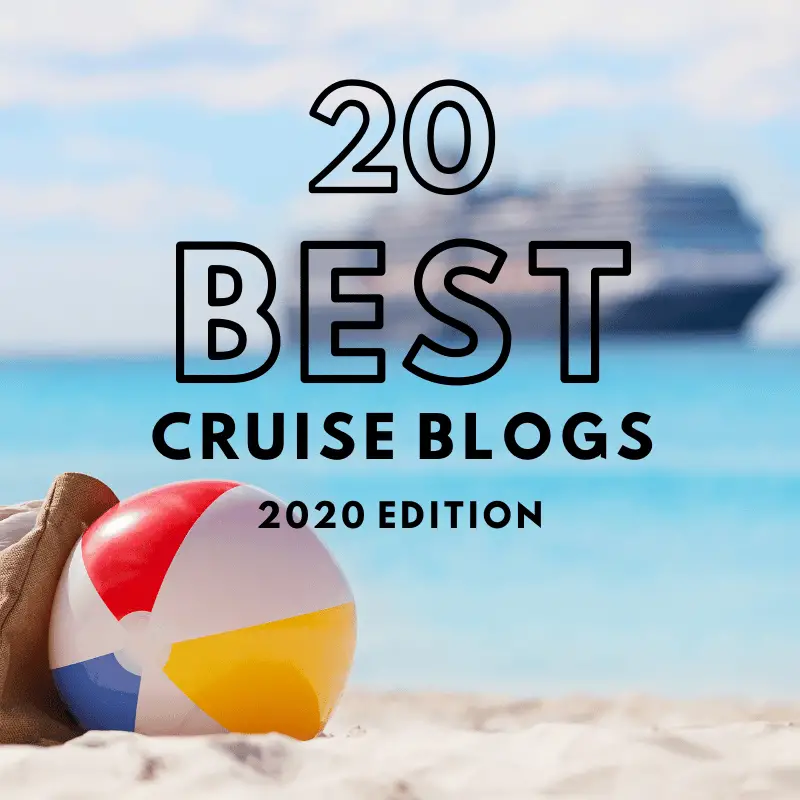 Last updated on February 22nd, 2020 at 08:41 am
UPDATED – 2020 EDITION! 
We're back for 2020 with lots of changes to our list. The biggest change is that the Top 15 Cruise Blogs as expanded and is now the Top 20 Cruise Blogs. There were too many new cruise bloggers to keep the list at just 15 and, why not have 20 for 2020? 
For readers who LOVE cruising as much as we do, you likely use your free time (or work time…) searching for the best deals on cruises, reading about new ships or new ports and tweaking your budget to allow for that next cruise.
We love reading and researching our next cruise as much as you do, so in order to help you find the best, most useful and most interesting cruise information out there we have compiled a list of 20 Cruise Blogs that you should check out, bookmark and read often.
***If you're not into reading and you would rather watch a video, check out our 18 Best Cruise Vlogs here.***
1.)  cruisemaven.com – Have a fear of flying or want to avoid hectic airplane travel? This blog is for you! Cruise Maven aka Sherry Laskin Kennedy is an avid cruiser who has traveled around the world and avoided taking a plane since 1995! Not only does she point out all the various places you can go on a cruise, but she dives into helpful tips for river cruises and train travel.
2.)  cruisehive.com – Started in 2008 by Emrys Thakkar, a former Carnival Cruise Lines employee, this site is full of helpful cruise tips, ship info, a cruise forum, videos and more.
3.)  avidcruiser.com/blog – Operated by experienced cruiser, Ralph Grizzle. He's been on over 200 cruises and operates a number of cruise related websites. He offers and expert opinion and features blog posts, videos, ship review and more. His Youtube Channel – https://www.youtube.com/user/avidcruiser is full of helpful videos to help you make decisions about your next cruise.
4.)  cruise-addicts.com – Run by John Shallo, Cruise Addicts is an online community for those who love cruise travel. Ship/Cruise reviews, cruise tips, cruise forum and much more. Their Twitter account is full of deal alerts, helping you find some of the best deals that might only be available for a short period of time.
5.)  eatsleepcruise.com – Is a husband and wife duo with 10+ years of cruising history. Despite their different personalities, they both share a passion for vacationing and cruising. Their website features honest reviews, ship info, cruise excursion information and more.
6.)  cruisemiss.com – CruiseMiss aka Danielle embarked on her first cruise in 2007 and has hooked ever since. She writes insightful, in-depth posts from her travels in the Caribbean, Mediterranean, Europe & Scandinavia.
7.)  chriscruises.com – Chris Owen is somewhat of a legend in the cruise world. He's certified as a Master Cruise Counselor and currently contributes to a number of large online publications like examiner.com. He's rated in the top 10 cruise bloggers worldwide and the content on ChrisCruises.com is not to be missed.
8.)  cruisereport.com – Chris Dikmen and Rickee Richardson are the faces behind CruiseReport.com which has been online since June 2002! Chris provides technical oversight of the site which features blog posts, reviews, pictures, port reviews and much much more. Because the site has been online for so long, it's has so much information that for those planning a cruise, this site is the ultimate find!
9.)  cruzely.com – This website founded just a couple of years ago has quickly gained traction as a premier resource for cruise information, cruise tips, parking, hotels and more. With daily updates there's plenty of information to keep you coming back each day to indulge in your cruise addiction.
10.)  cruisefever.net – Started in 2011 by 2 brothers, the site is operated by a staff of 2 – Ben Souza and Jonathan Mark. Ben has written more than 500 articles about cruises and currently cruises more than 5 times per year. The site is full of ship info, port details, reviews and has a vibrant community on Facebook with over 80,000 likes. They site has updates on a daily basis and if you're not currently following them, you should be.
11.)  popularcruising.com –  I first got hooked on Popular Cruising by watching their videos on YouTube. Their Youtube Channnel features some of the best quality and in-depth cruise info that I've been able to find online. The site is operated by cruise expert Jason Leppert who has been on over 80 cruises. Make sure to check out their video page here.
12.)  thecruiseblogger.com – If you want cruise tips and information from someone who really knows cruising, this is the blog for you! Anna, the chief blogger worked on a cruise ship as a crew member and is married to a crewmember. She spends 6 months of the year cruising with her husband (a deputy captain) and writing about her experiences. You can't get much closer to the action than that! 
13.)  allthingscruise.com – AllThingsCruise, launched September 2009, is an independent travel enthusiast website, currently staffed by Heidi Allison-Shane, Cynthia Boal Janssens & Renee Goyeneche as well as a number of guest contributors. The site is jam-packed with reviews, ship and destination information and more.
14.) cruiseradio.net  – Cruise Radio had been around since 2009 and features a wealth of information, videos and a Podcast to help you with your cruise planning. Often reporting live from a cruise ship, this is an entertaining and helpful blog. 
15.) lifewellcruised.com – Directly from the blog – "I'm Ilana. I'm an avid cruiser and have been giving out insider tips for more than 10 years!" Definitely an informative cruise blog that you should check out!
16.) yourcruisegirl.com – Your Cruise Girl began in early 2018 and has steadily grown because of the helpful, insightful cruise content. This is definitely a blog you will want to add to your reading list.
17.) profcruise.com – Started by retired College Professor, Sarah, this humorous cruise blog is easy to read, interesting and engaging. It features insightful information on various cruise ships and destinations.
18.) officialcruiseguru.com – Written by Diane Tierney, an experienced travel writer based in Canada. Her work has been published in many professional publications including the Toronto Sun, Toronto Star and National Post, as well as a number of other media outlets.  
19.) cruisingisntjustforoldpeople.com – Otherwise known as "Emma Cruises" on her Instagram account, Emma is a UK-based cruise blogger. She's active on social media and writes from first-hand accounts of travelling on various cruise ships and cruise lines. 
20.) shipsandchampagne.com – Writer Flavia knows what she wants from a cruise. She's most interested in Elegance, Fine Dining and Conservation and she writes from this perspective. Follow her through her blog as she details her own experiences. 
This page contains affiliate links for which we may receive financial compensation when a purchase has been made through one of our affiliate partners.
Jonathon is the tech guy behind CruiseportAdvisor.com. When he's not stuck in front of his computer, Jonathon enjoys travel & cruising (even after being on a cruise ship that caught fire – a story for another day!)