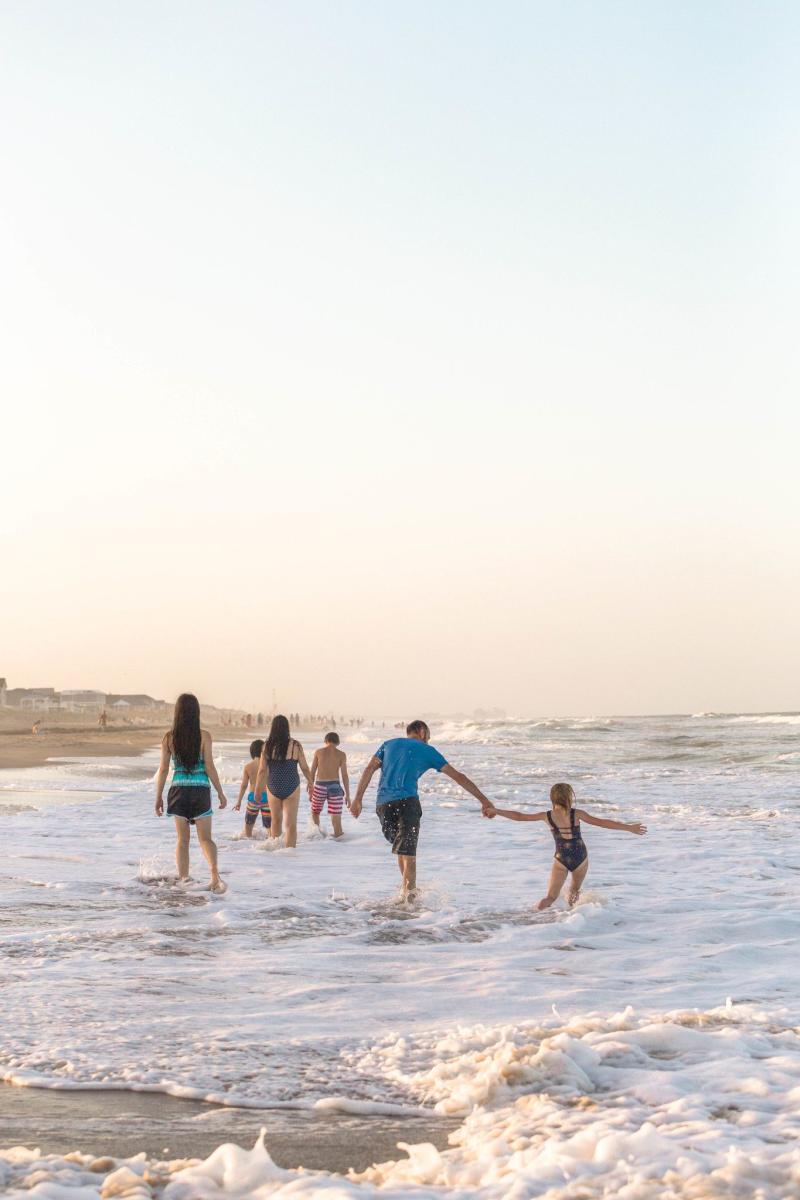 ORDER YOUR FREE  2021 TRAVEL GUIDE NOW!
2021 Virginia Travel Guide and State Map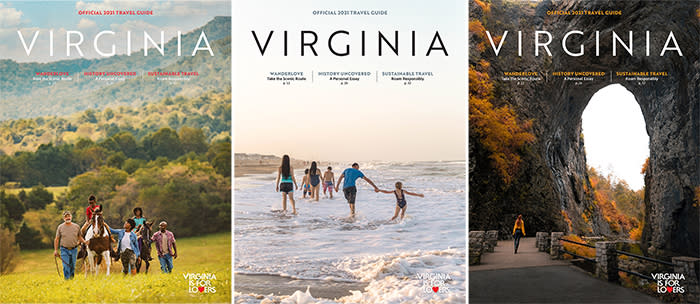 A vacation in Virginia is about doing the things you love with the people you love most – and making memories that will last a lifetime.
The 2021 Virginia Travel Guide features a curated collection of personal recommendations and heartfelt narratives from talented writers, local enthusiasts and passionate travelers. Get the insider's perspective on the best ways to experience Virginia, from lesser-known road trips and dining destinations, to sustainable travel tips and even a personal exploration of Virginia's complex history.
Whether your travel dreams include charming small towns or vibrant cities, mountain adventures or coastal retreats, we hope you're inspired to share what you love on your next Virginia vacation.
As you make plans to travel, please know that COVID-19 continues to have our full attention – and the health and safety of our visitors and communities is our number one priority. As this Guide went to print in January 2021, please check with businesses on current hours, and be sure observe Virginia's COVID-19 safety guidelines when traveling. We look forward to seeing you when you're ready!
PREVIEW THE TRAVEL GUIDE
View digitally and download below.
Sign me up!
Order your Virginia Is For Lovers Travel Guide by completing the required fields below.
(For bulk publication orders please use this link.)
Select the box(es) for the brochure(s) and email updates you are interested in receiving.
Please note, address information is required for proper delivery. If you would like to subscribe to any of our Virginia emails without ordering a brochure, please click here.
Travel Guides and Maps
Are you interested in receiving any of the following travel guides and maps?
* Indicates a required field.
=0;i=i-1){if(form.elements[i].name==="" || form.elements[i].name==="g-recaptcha-response"){continue}switch(form.elements[i].nodeName){case"INPUT":switch(form.elements[i].type){case"text":case"hidden":case"password":case"button":case"reset":case"submit":q.push(form.elements[i].name+"="+encodeURIComponent(form.elements[i].value));break;case"checkbox":case"radio":if(form.elements[i].checked){q.push(form.elements[i].name+"="+encodeURIComponent(form.elements[i].value))}break;case"file":break}break;case"TEXTAREA":q.push(form.elements[i].name+"="+encodeURIComponent(form.elements[i].value));break;case"SELECT":switch(form.elements[i].type){case"select-one":q.push(form.elements[i].name+"="+encodeURIComponent(form.elements[i].value));break;case"select-multiple":for(j=form.elements[i].options.length-1;j>=0;j=j-1){if(form.elements[i].options[j].selected){q.push(form.elements[i].name+"="+encodeURIComponent(form.elements[i].options[j].value))}}break}break;case"BUTTON":switch(form.elements[i].type){case"reset":case"submit":case"button":q.push(form.elements[i].name+"="+encodeURIComponent(form.elements[i].value));break}break}}return q.join("&")}; var iframe = document.createElement('iframe'); iframe.id = "539319E1_5056_A36A_07279A4D9468A6FA"; iframe.style.width = '0'; iframe.style.height = '0'; iframe.style.position='absolute'; iframe.src= 'https://marketing.virginia.org/acton/eform/43976/416581c6-fe7d-4113-9681-12f02eb38b0c/d-ext-0001'; iframe.src += '?' + serializeForm(frm); document.body.appendChild(iframe); try{ var elm = document.getElementById("539319E1_5056_A36A_07279A4D9468A6FA"); var hasLoaded = false; var timesChecked = 0; var checkForLoadedInterval = window.setInterval(function(){ timesChecked++; if(timesChecked > 3 || hasLoaded){ window.clearInterval(checkForLoadedInterval); if(!hasLoaded){ try{ if(elm.removeEventListener){ elm.removeEventListener("load", weHaveLoadedFunc); }else if(elm.detachEvent){ elm.detachEvent("onload",weHaveLoadedFunc) } }catch(e){} changeSaveFrmButtonTypeAndSubmit(frm); } } },1000); var weHaveLoadedFunc = function(){ hasLoaded = true; try{window.clearInterval(checkForLoadedInterval);}catch(e){console.log("Error clearing interval",e);} changeSaveFrmButtonTypeAndSubmit(frm); } if (elm.addEventListener) { elm.addEventListener("load",weHaveLoadedFunc, false); } else if (elm.attachEvent) { elm.attachEvent("onload", weHaveLoadedFunc); } }catch(e){ changeSaveFrmButtonTypeAndSubmit(frm); } } ]]> <![CDATA[ (function(){ svcrm = ((typeof svcrm != 'undefined') ? svcrm : {}); svcrm.formBuilderScripts = ((typeof svcrm.formBuilderScripts != 'undefined') ? svcrm.formBuilderScripts : {}); svcrm.formBuilderScripts.chkBoxes = function(fld){ var i = 0; var cnt = 0; if(fld.length==undefined && fld.checked == true) return true; for (i = 0; i < fld.length; i++) { if (fld[i].checked) { cnt++; break; } } if (cnt == 0) return false; else return true; }; svcrm.formBuilderScripts.updReq = function(){ var i = 0; var st = new Array(); var zp = new Array(); var cty = document.getElementById('contact_country').options[document.getElementById('contact_country').selectedIndex].value; st = document.getElementById('statectry').value.split(','); for (i = 0; i 0) document.getElementById('label_contact_state').className = 'formnoreq'; else document.getElementById('label_contact_state').className = 'formreq'; zp = document.getElementById('zipctry').value.split(','); for (i = 0; i 0) document.getElementById('label_contact_zip').className = 'formnoreq'; else document.getElementById('label_contact_zip').className = 'formreq'; return true; }; // removes the leading and trailing spaces from a string, // similar to the java.lang.String.trim() function // added by lturetsky, taken from http://www.voy.com/1888/58.html svcrm.formBuilderScripts.trim = function(st){ var len = st.length var begin = 0, end = len - 1; while (st.charAt(begin) == " " && begin < len) { begin++; } while (st.charAt(end) == " " && begin 0) errMsg += 'The following fields are required!n' + reqMsg + 'n'; if (fmtMsg.length > 0) errMsg += 'The following information is invalid!n' + fmtMsg + 'n'; svcrm.formBuilderScripts.showValidationErrorMsg(errMsg); Array.prototype.forEach.call(document.getElementsByName("savefrm"), function(e){e.disabled=false}); return false; }else{ AoProcessForm(frm); return false; } }; //why not 🙂 svcrm.formBuilderScripts.showValidationErrorMsg = function(msg){ alert(msg); }; svcrm.formBuilderScripts.updateDOB = function(monthFld,dayFld) { var days = 0; if (monthFld.selectedIndex == 0) return true; switch (monthFld.selectedIndex) { case 2: days = 30; break; case 4: case 6: case 9: case 11: days = 31; break; default: days = 32; break; } if (dayFld.options[dayFld.selectedIndex].value >= days) dayFld.selectedIndex = days – 1; dayFld.length = days; for (var i = 28; i <![CDATA[ (function(){ svcrm = ((typeof svcrm != 'undefined') ? svcrm : {}); svcrm.formBuilderScripts = ((typeof svcrm.formBuilderScripts != 'undefined') ? svcrm.formBuilderScripts : {}); window.svcrm.formBuilderScripts.states = [{"STATES":"**** - **","COUNTRYNAME":"AFGHANISTAN","COUNTRYID":239},{"STATES":"**** - **","COUNTRYNAME":"ÅLAND ISLANDS","COUNTRYID":272},{"STATES":"**** - **","COUNTRYNAME":"ALBANIA","COUNTRYID":1},{"STATES":"**** - **","COUNTRYNAME":"ALGERIA","COUNTRYID":2},{"STATES":"**** - **","COUNTRYNAME":"AMERICAN SAMOA","COUNTRYID":3},{"STATES":"**** - **","COUNTRYNAME":"ANDORRA","COUNTRYID":4},{"STATES":"**** - **","COUNTRYNAME":"ANGOLA","COUNTRYID":250},{"STATES":"**** - **","COUNTRYNAME":"ANGUILLA","COUNTRYID":5},{"STATES":"**** - **","COUNTRYNAME":"ANTARCTICA","COUNTRYID":256},{"STATES":"**** - **","COUNTRYNAME":"ANTIGUA AND BARBUDA","COUNTRYID":6},{"STATES":"**** - **","COUNTRYNAME":"ARGENTINA","COUNTRYID":7},{"STATES":"**** - **","COUNTRYNAME":"ARMENIA","COUNTRYID":251},{"STATES":"**** - **","COUNTRYNAME":"ARUBA","COUNTRYID":8},{"STATES":"**** - ** NSWNSW - New South Wales QldQld - Queensland SASA - South Australia TasTas - Tasmania VicVic - Victoria WAWA - Western Australia","COUNTRYNAME":"AUSTRALIA","COUNTRYID":9},{"STATES":"**** - **","COUNTRYNAME":"AUSTRIA","COUNTRYID":10},{"STATES":"**** - **","COUNTRYNAME":"AZERBAIJAN","COUNTRYID":252},{"STATES":"**** - **","COUNTRYNAME":"BAHAMAS","COUNTRYID":12},{"STATES":"**** - **","COUNTRYNAME":"BAHRAIN","COUNTRYID":13},{"STATES":"**** - **","COUNTRYNAME":"BANGLADESH","COUNTRYID":14},{"STATES":"**** - **","COUNTRYNAME":"BARBADOS","COUNTRYID":15},{"STATES":"**** - **","COUNTRYNAME":"BELARUS","COUNTRYID":18},{"STATES":"**** - **","COUNTRYNAME":"BELGIUM","COUNTRYID":16},{"STATES":"**** - **","COUNTRYNAME":"BELIZE","COUNTRYID":17},{"STATES":"**** - **","COUNTRYNAME":"BENIN","COUNTRYID":19},{"STATES":"**** - **","COUNTRYNAME":"BERMUDA","COUNTRYID":20},{"STATES":"**** - **","COUNTRYNAME":"BHUTAN","COUNTRYID":240},{"STATES":"**** - **","COUNTRYNAME":"BOLIVIA, PLURINATIONAL STATE OF","COUNTRYID":21},{"STATES":"**** - **","COUNTRYNAME":"BOSNIA AND HERZEGOVINA","COUNTRYID":23},{"STATES":"**** - **","COUNTRYNAME":"BOTSWANA","COUNTRYID":24},{"STATES":"**** - **","COUNTRYNAME":"BOUVET ISLAND","COUNTRYID":253},{"STATES":"**** - **","COUNTRYNAME":"BRAZIL","COUNTRYID":25},{"STATES":"**** - **","COUNTRYNAME":"BRITISH INDIAN OCEAN TERRITORY","COUNTRYID":278},{"STATES":"**** - **","COUNTRYNAME":"BRUNEI DARUSSALAM","COUNTRYID":27},{"STATES":"**** - **","COUNTRYNAME":"BULGARIA","COUNTRYID":28},{"STATES":"**** - **","COUNTRYNAME":"BURKINA FASO","COUNTRYID":29},{"STATES":"**** - **","COUNTRYNAME":"BURUNDI","COUNTRYID":30},{"STATES":"**** - **","COUNTRYNAME":"CAMBODIA","COUNTRYID":31},{"STATES":"**** - **","COUNTRYNAME":"CAMEROON","COUNTRYID":32},{"STATES":"**** - ** ABAB - Alberta BCBC - British Columbia MBMB - Manitoba NBNB - New Brunswick NLNL - Newfoundland and Labrador NTNT - Northwest Territory NSNS - Nova Scotia NUNU - Nunavut ONON - Ontario PEPE - Prince Edward Island QCQC - Quebec SKSK - Saskatchewan YTYT - Yukon","COUNTRYNAME":"CANADA","COUNTRYID":33},{"STATES":"**** - **","COUNTRYNAME":"CANARY ISLANDS","COUNTRYID":34},{"STATES":"**** - **","COUNTRYNAME":"CAPE VERDE","COUNTRYID":35},{"STATES":"**** - **","COUNTRYNAME":"CAYMAN ISLANDS","COUNTRYID":36},{"STATES":"**** - **","COUNTRYNAME":"CENTRAL AFRICAN REPUBLIC","COUNTRYID":37},{"STATES":"**** - **","COUNTRYNAME":"CHAD","COUNTRYID":38},{"STATES":"**** - ** SANSAN - Santiago","COUNTRYNAME":"CHILE","COUNTRYID":40},{"STATES":"**** - **","COUNTRYNAME":"CHINA","COUNTRYID":41},{"STATES":"**** - **","COUNTRYNAME":"CHRISTMAS ISLAND","COUNTRYID":254},{"STATES":"**** - **","COUNTRYNAME":"COCOS (KEELING) ISLANDS","COUNTRYID":241},{"STATES":"**** - **","COUNTRYNAME":"COLOMBIA","COUNTRYID":42},{"STATES":"**** - **","COUNTRYNAME":"COMOROS","COUNTRYID":255},{"STATES":"**** - **","COUNTRYNAME":"CONGO","COUNTRYID":43},{"STATES":"**** - **","COUNTRYNAME":"CONGO, THE DEMOCRATIC REPUBLIC OF THE","COUNTRYID":274},{"STATES":"**** - **","COUNTRYNAME":"COOK ISLANDS","COUNTRYID":44},{"STATES":"**** - **","COUNTRYNAME":"COSTA RICA","COUNTRYID":45},{"STATES":"**** - **","COUNTRYNAME":"CÔTE D'IVOIRE","COUNTRYID":94},{"STATES":"**** - **","COUNTRYNAME":"CROATIA","COUNTRYID":46},{"STATES":"**** - **","COUNTRYNAME":"CUBA","COUNTRYID":242},{"STATES":"**** - **","COUNTRYNAME":"CURACAO","COUNTRYID":47},{"STATES":"**** - **","COUNTRYNAME":"CYPRUS","COUNTRYID":48},{"STATES":"**** - **","COUNTRYNAME":"CZECH REPUBLIC","COUNTRYID":49},{"STATES":"**** - **","COUNTRYNAME":"DENMARK","COUNTRYID":50},{"STATES":"**** - **","COUNTRYNAME":"DJIBOUTI","COUNTRYID":51},{"STATES":"**** - **","COUNTRYNAME":"DOMINICA","COUNTRYID":52},{"STATES":"**** - **","COUNTRYNAME":"DOMINICAN REPUBLIC","COUNTRYID":53},{"STATES":"**** - **","COUNTRYNAME":"ECUADOR","COUNTRYID":54},{"STATES":"**** - **","COUNTRYNAME":"EGYPT","COUNTRYID":55},{"STATES":"**** - **","COUNTRYNAME":"EL SALVADOR","COUNTRYID":56},{"STATES":"**** - **","COUNTRYNAME":"EQUATORIAL GUINEA","COUNTRYID":58},{"STATES":"**** - **","COUNTRYNAME":"ERITREA","COUNTRYID":59},{"STATES":"**** - **","COUNTRYNAME":"ESTONIA","COUNTRYID":60},{"STATES":"**** - **","COUNTRYNAME":"ETHIOPIA","COUNTRYID":61},{"STATES":"**** - **","COUNTRYNAME":"FALKLAND ISLANDS (MALVINAS)","COUNTRYID":258},{"STATES":"**** - **","COUNTRYNAME":"FAROE ISLANDS","COUNTRYID":62},{"STATES":"**** - **","COUNTRYNAME":"FIJI","COUNTRYID":64},{"STATES":"**** - **","COUNTRYNAME":"FINLAND","COUNTRYID":65},{"STATES":"**** - **","COUNTRYNAME":"FRANCE","COUNTRYID":66},{"STATES":"**** - **","COUNTRYNAME":"FRENCH GUIANA","COUNTRYID":67},{"STATES":"**** - **","COUNTRYNAME":"FRENCH POLYNESIA","COUNTRYID":197},{"STATES":"**** - **","COUNTRYNAME":"FRENCH SOUTHERN TERRITORIES","COUNTRYID":283},{"STATES":"**** - **","COUNTRYNAME":"GABON","COUNTRYID":69},{"STATES":"**** - **","COUNTRYNAME":"GAMBIA","COUNTRYID":70},{"STATES":"**** - **","COUNTRYNAME":"GEORGIA","COUNTRYID":71},{"STATES":"**** - **","COUNTRYNAME":"GERMANY","COUNTRYID":72},{"STATES":"**** - **","COUNTRYNAME":"GHANA","COUNTRYID":73},{"STATES":"**** - **","COUNTRYNAME":"GIBRALTAR","COUNTRYID":74},{"STATES":"**** - **","COUNTRYNAME":"GREECE","COUNTRYID":75},{"STATES":"**** - **","COUNTRYNAME":"GREENLAND","COUNTRYID":76},{"STATES":"**** - **","COUNTRYNAME":"GRENADA","COUNTRYID":77},{"STATES":"**** - **","COUNTRYNAME":"GUADELOUPE","COUNTRYID":78},{"STATES":"**** - **","COUNTRYNAME":"GUAM","COUNTRYID":79},{"STATES":"**** - **","COUNTRYNAME":"GUATEMALA","COUNTRYID":80},{"STATES":"**** - **","COUNTRYNAME":"GUERNSEY","COUNTRYID":275},{"STATES":"**** - **","COUNTRYNAME":"GUINEA","COUNTRYID":81},{"STATES":"**** - **","COUNTRYNAME":"GUINEA-BISSAU","COUNTRYID":82},{"STATES":"**** - **","COUNTRYNAME":"GUYANA","COUNTRYID":83},{"STATES":"**** - **","COUNTRYNAME":"HAITI","COUNTRYID":84},{"STATES":"**** - **","COUNTRYNAME":"HEARD ISLAND AND MCDONALD ISLANDS","COUNTRYID":276},{"STATES":"**** - **","COUNTRYNAME":"HOLY SEE (VATICAN CITY STATE)","COUNTRYID":236},{"STATES":"**** - **","COUNTRYNAME":"HONDURAS","COUNTRYID":86},{"STATES":"**** - **","COUNTRYNAME":"HONG KONG","COUNTRYID":87},{"STATES":"**** - **","COUNTRYNAME":"HUNGARY","COUNTRYID":88},{"STATES":"**** - **","COUNTRYNAME":"ICELAND","COUNTRYID":89},{"STATES":"**** - **","COUNTRYNAME":"INDIA","COUNTRYID":90},{"STATES":"**** - **","COUNTRYNAME":"INDONESIA","COUNTRYID":91},{"STATES":"**** - **","COUNTRYNAME":"IRAN, ISLAMIC REPUBLIC OF","COUNTRYID":235},{"STATES":"**** - **","COUNTRYNAME":"IRAQ","COUNTRYID":238},{"STATES":"**** - **","COUNTRYNAME":"IRELAND","COUNTRYID":234},{"STATES":"**** - **","COUNTRYNAME":"ISLE OF MAN","COUNTRYID":277},{"STATES":"**** - **","COUNTRYNAME":"ISRAEL","COUNTRYID":92},{"STATES":"**** - **","COUNTRYNAME":"ITALY","COUNTRYID":93},{"STATES":"**** - **","COUNTRYNAME":"JAMAICA","COUNTRYID":95},{"STATES":"**** - **","COUNTRYNAME":"JAPAN","COUNTRYID":96},{"STATES":"**** - **","COUNTRYNAME":"JERSEY","COUNTRYID":279},{"STATES":"**** - **","COUNTRYNAME":"JORDAN","COUNTRYID":97},{"STATES":"**** - **","COUNTRYNAME":"KAZAKHSTAN","COUNTRYID":98},{"STATES":"**** - **","COUNTRYNAME":"KENYA","COUNTRYID":99},{"STATES":"**** - **","COUNTRYNAME":"KIRIBATI","COUNTRYID":100},{"STATES":"**** - **","COUNTRYNAME":"KOREA, DEMOCRATIC PEOPLE'S REPUBLIC OF","COUNTRYID":264},{"STATES":"**** - **","COUNTRYNAME":"KOREA, REPUBLIC OF","COUNTRYID":177},{"STATES":"**** - **","COUNTRYNAME":"KOSRAE","COUNTRYID":101},{"STATES":"**** - **","COUNTRYNAME":"KUWAIT","COUNTRYID":102},{"STATES":"**** - **","COUNTRYNAME":"KYRGYZSTAN","COUNTRYID":103},{"STATES":"**** - **","COUNTRYNAME":"LAO PEOPLE'S DEMOCRATIC REPUBLIC","COUNTRYID":104},{"STATES":"**** - **","COUNTRYNAME":"LATVIA","COUNTRYID":105},{"STATES":"**** - **","COUNTRYNAME":"LEBANON","COUNTRYID":106},{"STATES":"**** - **","COUNTRYNAME":"LESOTHO","COUNTRYID":107},{"STATES":"**** - **","COUNTRYNAME":"LIBERIA","COUNTRYID":108},{"STATES":"**** - **","COUNTRYNAME":"LIBYAN ARAB JAMAHIRIYA","COUNTRYID":259},{"STATES":"**** - **","COUNTRYNAME":"LIECHTENSTEIN","COUNTRYID":109},{"STATES":"**** - **","COUNTRYNAME":"LITHUANIA","COUNTRYID":110},{"STATES":"**** - **","COUNTRYNAME":"LUXEMBOURG","COUNTRYID":111},{"STATES":"**** - **","COUNTRYNAME":"MACAO","COUNTRYID":112},{"STATES":"**** - **","COUNTRYNAME":"MACEDONIA, THE FORMER YUGOSLAV REPUBLIC OF","COUNTRYID":113},{"STATES":"**** - **","COUNTRYNAME":"MADAGASCAR","COUNTRYID":114},{"STATES":"**** - **","COUNTRYNAME":"MALAWI","COUNTRYID":116},{"STATES":"**** - **","COUNTRYNAME":"MALAYSIA","COUNTRYID":117},{"STATES":"**** - **","COUNTRYNAME":"MALDIVES","COUNTRYID":118},{"STATES":"**** - **","COUNTRYNAME":"MALI","COUNTRYID":119},{"STATES":"**** - **","COUNTRYNAME":"MALTA","COUNTRYID":120},{"STATES":"**** - ** MHMH - Marshall Islands","COUNTRYNAME":"MARSHALL ISLANDS","COUNTRYID":121},{"STATES":"**** - **","COUNTRYNAME":"MARTINIQUE","COUNTRYID":122},{"STATES":"**** - **","COUNTRYNAME":"MAURITANIA","COUNTRYID":123},{"STATES":"**** - **","COUNTRYNAME":"MAURITIUS","COUNTRYID":124},{"STATES":"**** - **","COUNTRYNAME":"MAYOTTE","COUNTRYID":260},{"STATES":"**** - **","COUNTRYNAME":"MEXICO","COUNTRYID":125},{"STATES":"**** - **","COUNTRYNAME":"MICRONESIA, FEDERATED STATES OF","COUNTRYID":63},{"STATES":"**** - **","COUNTRYNAME":"MOLDOVA, REPUBLIC OF","COUNTRYID":126},{"STATES":"**** - **","COUNTRYNAME":"MONACO","COUNTRYID":127},{"STATES":"**** - **","COUNTRYNAME":"MONGOLIA","COUNTRYID":261},{"STATES":"**** - **","COUNTRYNAME":"MONTENEGRO","COUNTRYID":115},{"STATES":"**** - **","COUNTRYNAME":"MONTSERRAT","COUNTRYID":128},{"STATES":"**** - **","COUNTRYNAME":"MOROCCO","COUNTRYID":129},{"STATES":"**** - **","COUNTRYNAME":"MOZAMBIQUE","COUNTRYID":130},{"STATES":"**** - **","COUNTRYNAME":"MYANMAR","COUNTRYID":131},{"STATES":"**** - **","COUNTRYNAME":"NAMIBIA","COUNTRYID":132},{"STATES":"**** - **","COUNTRYNAME":"NAURU","COUNTRYID":262},{"STATES":"**** - **","COUNTRYNAME":"NEPAL","COUNTRYID":133},{"STATES":"**** - **","COUNTRYNAME":"NETHERLANDS","COUNTRYID":134},{"STATES":"**** - **","COUNTRYNAME":"NETHERLANDS ANTILLES","COUNTRYID":135},{"STATES":"**** - **","COUNTRYNAME":"NEW CALEDONIA","COUNTRYID":136},{"STATES":"**** - **","COUNTRYNAME":"NEW ZEALAND","COUNTRYID":137},{"STATES":"**** - **","COUNTRYNAME":"NICARAGUA","COUNTRYID":138},{"STATES":"**** - **","COUNTRYNAME":"NIGER","COUNTRYID":139},{"STATES":"**** - **","COUNTRYNAME":"NIGERIA","COUNTRYID":140},{"STATES":"**** - **","COUNTRYNAME":"NIUE","COUNTRYID":263},{"STATES":"**** - **","COUNTRYNAME":"NORFOLK ISLAND","COUNTRYID":141},{"STATES":"**** - **","COUNTRYNAME":"NORTHERN MARIANA ISLANDS","COUNTRYID":143},{"STATES":"**** - **","COUNTRYNAME":"NORWAY","COUNTRYID":144},{"STATES":"**** - **","COUNTRYNAME":"OMAN","COUNTRYID":145},{"STATES":"**** - **","COUNTRYNAME":"PAKISTAN","COUNTRYID":146},{"STATES":"**** - **","COUNTRYNAME":"PALAU","COUNTRYID":147},{"STATES":"**** - **","COUNTRYNAME":"PALESTINIAN TERRITORY, OCCUPIED","COUNTRYID":281},{"STATES":"**** - **","COUNTRYNAME":"PANAMA","COUNTRYID":148},{"STATES":"**** - **","COUNTRYNAME":"PAPUA NEW GUINEA","COUNTRYID":149},{"STATES":"**** - **","COUNTRYNAME":"PARAGUAY","COUNTRYID":150},{"STATES":"**** - **","COUNTRYNAME":"PERU","COUNTRYID":151},{"STATES":"**** - **","COUNTRYNAME":"PHILIPPINES","COUNTRYID":152},{"STATES":"**** - **","COUNTRYNAME":"PITCAIRN","COUNTRYID":265},{"STATES":"**** - **","COUNTRYNAME":"POLAND","COUNTRYID":153},{"STATES":"**** - **","COUNTRYNAME":"PONAPE","COUNTRYID":154},{"STATES":"**** - **","COUNTRYNAME":"PORTUGAL","COUNTRYID":155},{"STATES":"**** - **","COUNTRYNAME":"PUERTO RICO","COUNTRYID":156},{"STATES":"**** - **","COUNTRYNAME":"QATAR","COUNTRYID":157},{"STATES":"**** - **","COUNTRYNAME":"RÉUNION","COUNTRYID":160},{"STATES":"**** - **","COUNTRYNAME":"ROMANIA","COUNTRYID":161},{"STATES":"**** - **","COUNTRYNAME":"RUSSIAN FEDERATION","COUNTRYID":163},{"STATES":"**** - **","COUNTRYNAME":"RWANDA","COUNTRYID":164},{"STATES":"**** - **","COUNTRYNAME":"SABA","COUNTRYID":165},{"STATES":"**** - **","COUNTRYNAME":"SAINT BARTHÉLEMY","COUNTRYID":273},{"STATES":"**** - **","COUNTRYNAME":"SAINT HELENA","COUNTRYID":245},{"STATES":"**** - **","COUNTRYNAME":"SAINT KITTS AND NEVIS","COUNTRYID":185},{"STATES":"**** - **","COUNTRYNAME":"SAINT LUCIA","COUNTRYID":186},{"STATES":"**** - **","COUNTRYNAME":"SAINT MARTIN","COUNTRYID":280},{"STATES":"**** - **","COUNTRYNAME":"SAINT PIERRE AND MIQUELON","COUNTRYID":269},{"STATES":"**** - **","COUNTRYNAME":"SAINT VINCENT AND THE GRENADINES","COUNTRYID":190},{"STATES":"**** - **","COUNTRYNAME":"SAIPAN","COUNTRYID":166},{"STATES":"**** - **","COUNTRYNAME":"SAMOA","COUNTRYID":228},{"STATES":"**** - **","COUNTRYNAME":"SAN MARINO","COUNTRYID":266},{"STATES":"**** - **","COUNTRYNAME":"SAO TOME AND PRINCIPE","COUNTRYID":267},{"STATES":"**** - **","COUNTRYNAME":"SAUDI ARABIA","COUNTRYID":167},{"STATES":"**** - **","COUNTRYNAME":"SCOTLAND","COUNTRYID":168},{"STATES":"**** - **","COUNTRYNAME":"SENEGAL","COUNTRYID":169},{"STATES":"**** - **","COUNTRYNAME":"SERBIA","COUNTRYID":284},{"STATES":"**** - **","COUNTRYNAME":"SEYCHELLES","COUNTRYID":170},{"STATES":"**** - **","COUNTRYNAME":"SIERRA LEONE","COUNTRYID":171},{"STATES":"**** - **","COUNTRYNAME":"SINGAPORE","COUNTRYID":172},{"STATES":"**** - **","COUNTRYNAME":"SLOVAKIA","COUNTRYID":173},{"STATES":"**** - **","COUNTRYNAME":"SLOVENIA","COUNTRYID":174},{"STATES":"**** - **","COUNTRYNAME":"SOLOMON ISLANDS","COUNTRYID":175},{"STATES":"**** - **","COUNTRYNAME":"SOMALIA","COUNTRYID":244},{"STATES":"**** - **","COUNTRYNAME":"SOUTH AFRICA","COUNTRYID":176},{"STATES":"**** - **","COUNTRYNAME":"SOUTH GEORGIA AND THE SOUTH SANDWICH ISLANDS","COUNTRYID":268},{"STATES":"**** - **","COUNTRYNAME":"SPAIN","COUNTRYID":178},{"STATES":"**** - **","COUNTRYNAME":"SRI LANKA","COUNTRYID":179},{"STATES":"**** - **","COUNTRYNAME":"ST. BARTHELEMY","COUNTRYID":180},{"STATES":"**** - **","COUNTRYNAME":"ST. CHRISTOPHER","COUNTRYID":181},{"STATES":"**** - **","COUNTRYNAME":"ST. CROIX","COUNTRYID":182},{"STATES":"**** - **","COUNTRYNAME":"ST. EUSTATIUS","COUNTRYID":183},{"STATES":"**** - **","COUNTRYNAME":"ST. JOHN","COUNTRYID":184},{"STATES":"**** - **","COUNTRYNAME":"ST. MAARTEN","COUNTRYID":187},{"STATES":"**** - **","COUNTRYNAME":"ST. MARTIN","COUNTRYID":188},{"STATES":"**** - **","COUNTRYNAME":"ST. THOMAS","COUNTRYID":189},{"STATES":"**** - **","COUNTRYNAME":"SUDAN","COUNTRYID":191},{"STATES":"**** - **","COUNTRYNAME":"SURINAME","COUNTRYID":192},{"STATES":"**** - **","COUNTRYNAME":"SVALBARD AND JAN MAYEN","COUNTRYID":282},{"STATES":"**** - **","COUNTRYNAME":"SWAZILAND","COUNTRYID":193},{"STATES":"**** - **","COUNTRYNAME":"SWEDEN","COUNTRYID":194},{"STATES":"**** - **","COUNTRYNAME":"SWITZERLAND","COUNTRYID":195},{"STATES":"**** - **","COUNTRYNAME":"SYRIAN ARAB REPUBLIC","COUNTRYID":196},{"STATES":"**** - **","COUNTRYNAME":"TAIWAN, PROVINCE OF CHINA","COUNTRYID":198},{"STATES":"**** - **","COUNTRYNAME":"TAJIKISTAN","COUNTRYID":199},{"STATES":"**** - **","COUNTRYNAME":"TANZANIA, UNITED REPUBLIC OF","COUNTRYID":200},{"STATES":"**** - **","COUNTRYNAME":"THAILAND","COUNTRYID":201},{"STATES":"**** - **","COUNTRYNAME":"TIMOR-LESTE","COUNTRYID":257},{"STATES":"**** - **","COUNTRYNAME":"TINIAN","COUNTRYID":202},{"STATES":"**** - **","COUNTRYNAME":"TOGO","COUNTRYID":203},{"STATES":"**** - **","COUNTRYNAME":"TOKELAU","COUNTRYID":270},{"STATES":"**** - **","COUNTRYNAME":"TONGA","COUNTRYID":204},{"STATES":"**** - **","COUNTRYNAME":"TORTOLA","COUNTRYID":205},{"STATES":"**** - **","COUNTRYNAME":"TRINIDAD AND TOBAGO","COUNTRYID":206},{"STATES":"**** - **","COUNTRYNAME":"TRUK","COUNTRYID":207},{"STATES":"**** - **","COUNTRYNAME":"TUNISIA","COUNTRYID":208},{"STATES":"**** - **","COUNTRYNAME":"TURKEY","COUNTRYID":209},{"STATES":"**** - **","COUNTRYNAME":"TURKMENISTAN","COUNTRYID":271},{"STATES":"**** - **","COUNTRYNAME":"TURKS AND CAICOS ISLANDS","COUNTRYID":210},{"STATES":"**** - **","COUNTRYNAME":"TUVALU","COUNTRYID":211},{"STATES":"**** - **","COUNTRYNAME":"UGANDA","COUNTRYID":212},{"STATES":"**** - **","COUNTRYNAME":"UKRAINE","COUNTRYID":213},{"STATES":"**** - **","COUNTRYNAME":"UNION ISLAND","COUNTRYID":214},{"STATES":"**** - **","COUNTRYNAME":"UNITED ARAB EMIRATES","COUNTRYID":215},{"STATES":"**** - **","COUNTRYNAME":"UNITED KINGDOM","COUNTRYID":57},{"STATES":"**** - ** ALAL - Alabama AKAK - Alaska AZAZ - Arizona ARAR - Arkansas CACA - California COCO - Colorado CTCT - Connecticut DEDE - Delaware DCDC - District of Columbia FLFL - Florida GAGA - Georgia HIHI - Hawaii IDID - Idaho ILIL - Illinois ININ - Indiana IAIA - Iowa KSKS - Kansas KYKY - Kentucky LALA - Louisiana MEME - Maine MDMD - Maryland MAMA - Massachusetts MIMI - Michigan MNMN - Minnesota MSMS - Mississippi MOMO - Missouri MTMT - Montana NENE - Nebraska NVNV - Nevada NHNH - New Hampshire NJNJ - New Jersey NMNM - New Mexico NYNY - New York NCNC - North Carolina NDND - North Dakota OHOH - Ohio OKOK - Oklahoma OROR - Oregon PAPA - Pennsylvania RIRI - Rhode Island SCSC - South Carolina SDSD - South Dakota TNTN - Tennessee TXTX - Texas UTUT - Utah VTVT - Vermont VAVA - Virginia WAWA - Washington WVWV - West Virginia WIWI - Wisconsin WYWY - Wyoming","COUNTRYNAME":"UNITED STATES","COUNTRYID":217},{"STATES":"**** - **","COUNTRYNAME":"UNITED STATES MINOR OUTLYING ISLANDS","COUNTRYID":225},{"STATES":"**** - **","COUNTRYNAME":"URUGUAY","COUNTRYID":218},{"STATES":"**** - **","COUNTRYNAME":"UZBEKISTAN","COUNTRYID":220},{"STATES":"**** - **","COUNTRYNAME":"VANUATU","COUNTRYID":221},{"STATES":"**** - **","COUNTRYNAME":"VENEZUELA, BOLIVARIAN REPUBLIC OF","COUNTRYID":222},{"STATES":"**** - **","COUNTRYNAME":"VIET NAM","COUNTRYID":223},{"STATES":"**** - **","COUNTRYNAME":"VIRGIN ISLANDS, BRITISH","COUNTRYID":26},{"STATES":"**** - **","COUNTRYNAME":"VIRGIN ISLANDS, U.S.","COUNTRYID":219},{"STATES":"**** - **","COUNTRYNAME":"WALES","COUNTRYID":226},{"STATES":"**** - **","COUNTRYNAME":"WALLIS AND FUTUNA","COUNTRYID":227},{"STATES":"**** - **","COUNTRYNAME":"WESTERN SAHARA","COUNTRYID":246},{"STATES":"**** - **","COUNTRYNAME":"YAP","COUNTRYID":229},{"STATES":"**** - **","COUNTRYNAME":"YEMEN","COUNTRYID":247},{"STATES":"**** - **","COUNTRYNAME":"ZAIRE","COUNTRYID":231},{"STATES":"**** - **","COUNTRYNAME":"ZAMBIA","COUNTRYID":232},{"STATES":"**** - **","COUNTRYNAME":"ZIMBABWE","COUNTRYID":233}]; svcrm.formBuilderScripts.countryChanged = function(domElm){ var state = document.getElementById('contact_state'); var oldSelIndexVal = state.value; //$F('contact_state'); var myStates = new Array(); // $('contact_state').options.length = 0; state.options.length = 0; for (var i = 0; i < window.svcrm.formBuilderScripts.states.length; i++) { if (window.svcrm.formBuilderScripts.states[i].COUNTRYNAME == domElm.options[domElm.selectedIndex].value || window.svcrm.formBuilderScripts.states[i].COUNTRYNAME == '') { var myObj = new Object(); var tmp = window.svcrm.formBuilderScripts.states[i].STATES.split(''); for (var x = 0; x 0) { for (var i = 0; i <![CDATA[ (function(){ svcrm = ((typeof svcrm != 'undefined') ? svcrm : {}); svcrm.formBuilderScripts = ((typeof svcrm.formBuilderScripts != 'undefined') ? svcrm.formBuilderScripts : {}); window.svcrm.formBuilderScripts._____fileInpElmsRemoved = {}; //being lazy, need a place to store the file inputs that get removed from the form //this function is called when a file upload input has a file selected window.svcrm.formBuilderScripts.submitFileUpload = function(frmname,fldname){ //kill off the old temp input that is used by formbuilder_fileAdd.cfm to know which form element to upload var oldinp = document.getElementById('thefileweneedtoupload'); if(oldinp){ oldinp.parentNode.removeChild(oldinp); } //create the temp input that is used by formbuilder_fileAdd.cfm to know which form element to upload var inp = document.createElement('input'); inp.type = 'hidden'; inp.name = 'thefileweneedtoupload'; inp.id = 'thefileweneedtoupload'; inp.value = fldname; document[frmname].appendChild(inp); //need to get some things from this input before it is killed so we will it so we can recreate it var fld = document.getElementById(fldname); window.svcrm.formBuilderScripts._____fileInpElmsRemoved[fldname] = { id:fld.id, name:fld.name, className:fld.className, tabIndex:fld.tabIndex, onchange:fld.onchange }; //kill iframe element if one exists window.svcrm.formBuilderScripts.killFileInputIframeElm(fldname); //create iframe to submit to var iframe = document.createElement('iframe'); iframe.id = 'fileUploaderIframe_'+fldname; iframe.name = 'fileUploaderIframe_'+fldname; iframe.style.display = 'none'; document.body.appendChild(iframe); //store the form action before it is changed var origFormAttributes = {action: document[frmname].action, enctype: document[frmname].enctype}; //change the form so that it will submit to the webapi and iframe target document[frmname].action = 'https://Virginia.simpleviewcrm.com/webapi/formbuilder/formbuilder_fileAdd.cfm'; document[frmname].target = 'fileUploaderIframe_'+fldname; document[frmname].enctype = 'multipart/form-data'; document[frmname].submit(); //reset the form to submit to where it was originally intended to submit to and remove the target so it doesn't go to the iframe document[frmname].setAttribute('action',origFormAttributes.action); document[frmname].setAttribute('enctype',origFormAttributes.enctype); document[frmname].removeAttribute('target'); // Disable the submit button and add a tool tip to the disabled element so it is clear why you can't submit yet -- useful for large files or slow connections document.getElementById('savefrm_button').disabled = true; const tt = document.getElementById('submit_tooltiptext'); if(tt){ //Make the tool tip show up tt.style.visibility = 'visible'; } else { // create a new element const toolTip = document.createElement("span"); const newContent = document.createTextNode("Unable to submit, file upload in progress."); toolTip.appendChild(newContent); toolTip.style.backgroundColor = "black"; toolTip.style.color = "white"; toolTip.style.textAlign = "center"; toolTip.style.borderRadius = "6px"; toolTip.style.padding = "4px 2px"; toolTip.setAttribute('id', 'submit_tooltiptext'); // add the newly created element and its content into the DOM currentDiv = document.getElementById('resetfrm_button'); const br = document.createElement("br"); // but put it on a new line first currentDiv.parentElement.insertBefore(br, null); currentDiv.parentElement.insertBefore(toolTip, null); } }; //this function is called by either the formbuilder_fileAdd.cfm window.parent.addFile() call or from the _handlePostMessage() function //it will take the filename that is returned and set it in the display element and hidden input //if success==true is not returned we will try to grab the message from errorMsg if passed otherwise will display a generic error message and will try to remove the file input and recreate it //it is possible that the IIS request filtering will kick in and prevent us from knowing if it failed but the overall submission will end up getting blocked because the file inputs will still exist window.svcrm.formBuilderScripts.addFile = function(addFileArgs){ if(typeof addFileArgs.success && addFileArgs.success){ //set the hidden input with the new filename so we can process upon save document.getElementById(addFileArgs.fldname+'_formbuilder_hidden').value = addFileArgs.newfilename; /*Re-enable the submit button, hide the tooltip*/ document.getElementById('savefrm_button').disabled = false; //style.visibility = "hidden"; const ttip = document.getElementById('submit_tooltiptext'); if(ttip){ //Make the tool tip hidden ttip.style.visibility = "hidden"; } //create the delete button for this file var newBtn = document.createElement('img'); newBtn.src = 'https://Virginia.simpleviewcrm.com/core_crm/webapi/forms/images/delete.png'; newBtn.onclick = function(){window.svcrm.formBuilderScripts.removeFile(addFileArgs.fldname);}; newBtn.alt = 'Remove File?'; newBtn.title = 'Remove File?'; newBtn.style.paddingTop = '5px'; newBtn.style.paddingRight = '5px'; newBtn.style.float = 'left'; //create the element that will show the file name var newDiv = document.createElement('div'); newDiv.innerHTML = addFileArgs.newfilename; newDiv.style.paddingTop = '4px'; newDiv.style.float = 'left'; //get this file inputs display element and append the delete button and name display elements in it var dispElm = document.getElementById(addFileArgs.fldname+'_display'); dispElm.appendChild(newBtn); dispElm.appendChild(newDiv); //create an empty div to fix the float for the delete and filename element var newDiv2 = document.createElement('div'); newDiv2.style.clear = 'both'; dispElm.appendChild(newDiv2); dispElm.style.display = 'block'; //turn on the display element //kill the file input we don't want it anymore unless they remove this file window.svcrm.formBuilderScripts.killFileInputElm(addFileArgs.fldname); }else{ //kill and recreate the element if we can if(typeof addFileArgs.fldname && addFileArgs.fldname.length){ window.svcrm.formBuilderScripts.killFileInputElm(addFileArgs.fldname); window.svcrm.formBuilderScripts.recreateFileInputElm(addFileArgs.fldname); } //if we have a good message display it alert('There was a problem uploading your file:n'+((typeof addFileArgs.errorMsg != 'undefined') ? addFileArgs.errorMsg : 'There was a problem uploading your file!' ) ); //Need to make sure that we re-enable the submit button in case it didn't happen above in the IF block // otherwise, they can't submit until they fix the issue; we should give them the option to abandon the file upload. document.getElementById('savefrm_button').disabled = false; document.getElementById('submit_tooltiptext').style.visibility = "hidden"; //hide the tooltip } //kill iframe element if it is still around window.svcrm.formBuilderScripts.killFileInputIframeElm(addFileArgs.fldname); }; //this function will delete the file input element from the form, it is called when a file input is selected and the form submitted off to the iframe window.svcrm.formBuilderScripts.killFileInputElm = function(fldId){ var fileInpElmToRemove = document.getElementById(fldId); fileInpElmToRemove.parentNode.removeChild(fileInpElmToRemove); }; //this function will re-create the file input element that was removed when a file was uploaded, this is called when a user clicks the delete button on an image or if we had an erorr upon file upload we wipe the input and recreate so it is empty window.svcrm.formBuilderScripts.recreateFileInputElm = function(fldId){ var elmstored = window.svcrm.formBuilderScripts._____fileInpElmsRemoved[fldId]; var recreatedElm = document.createElement('input'); recreatedElm.type = 'file'; recreatedElm.id = elmstored.id; recreatedElm.name = elmstored.name; recreatedElm.className = elmstored.className; recreatedElm.tabIndex = elmstored.tabIndex; recreatedElm.onchange = function(){ document.getElementById(fldId + '_formbuilder_hidden').value = this.value; window.svcrm.formBuilderScripts.submitFileUpload('frm_'+document.getElementById('formid').value, fldId); }; document.getElementById(fldId+'_container').appendChild(recreatedElm); } //this function will kill off the iframe element if it exists window.svcrm.formBuilderScripts.killFileInputIframeElm = function(fldname){ var iframeElm = document.getElementById('fileUploaderIframe_'+fldname); if(iframeElm){iframeElm.parentNode.removeChild(iframeElm);} }; //this function will remove the file it will wipe the display and hidden input and recreate the file upload input element window.svcrm.formBuilderScripts.removeFile = function(fldId){ //try to remove delete this file from temp if exists try{ //create an iframe and form with a hidden input field that has the name of the file we are trying to wipe var html = ''; html += ''; html += ''; html += ''; html += '' + ''; var iframeElm = document.getElementById('fileDeleterIframe_'+fldId); if(iframeElm){iframeElm.parentNode.removeChild(iframeElm);} var iframe = document.createElement('iframe'); iframe.id = 'fileDeleterIframe_'+fldId; iframe.style.display = 'none'; document.body.appendChild(iframe); iframe.contentWindow.document.open(); iframe.contentWindow.document.write(html); iframe.contentWindow.document.close(); }catch(e){ //nothing for now } document.getElementById(fldId+'_formbuilder_hidden').value = ''; var dispElm = document.getElementById(fldId+'_display'); dispElm.innerHTML = ''; dispElm.style.display = 'none'; //recreate the element window.svcrm.formBuilderScripts.recreateFileInputElm(fldId); }; //this function will handle the postMessage's it will make sure that it is coming from the valid crm domain, it will then call the addFile() function passing along the returned json object var _handlePostMessage = function(evt){ //check for correct postMessage source if(typeof evt.origin != 'undefined'){ //only run this if we are from the correct domain var _fixedOrigin = evt.origin + ( (evt.origin.substring(evt.origin.length-1,evt.origin.length) != '/') ? '/' : ''); var crmappurl = 'https://Virginia.simpleviewcrm.com/'; if(_fixedOrigin.toLowerCase().indexOf(crmappurl.toLowerCase()) != -1){ var _postMsgRtn = JSON.parse(evt.data); //json parse the returned data window.svcrm.formBuilderScripts.addFile(_postMsgRtn); //we will let the addFile handle any errors the same way as call from within crm form } } }; if (window.addEventListener) { window.addEventListener('message', _handlePostMessage, false); } else if (window.attachEvent) { window.attachEvent('onmessage', _handlePostMessage); } })(); ]]> <![CDATA[ /* +++++++++++++++++++++++++++ BEGIN Script copied from OLD CMS loadCRMForm +++++++++++++++++++++++++++++++++++++*/ (function(){ svcrm = ((typeof svcrm != 'undefined') ? svcrm : {}); svcrm.formBuilderScripts = ((typeof svcrm.formBuilderScripts != 'undefined') ? svcrm.formBuilderScripts : {}); svcrm.formBuilderScripts.captchaValid = false; svcrm.formBuilderScripts.validCodeElement = document.getElementById('code'); svcrm.formBuilderScripts.curPopupWindow = null; svcrm.formBuilderScripts.lastMouseX = null; svcrm.formBuilderScripts.lastMouseY = null; svcrm.formBuilderScripts.__onload_function = function(){ svcrm.formBuilderScripts.updReq(); if (svcrm.formBuilderScripts.validCodeElement.addEventListener) { svcrm.formBuilderScripts.validCodeElement.addEventListener('keyup', svcrm.formBuilderScripts.checkCapMatch, false); } else if (validCodeElement.attachEvent) { svcrm.formBuilderScripts.validCodeElement.attachEvent('onkeyup', svcrm.formBuilderScripts.checkCapMatch); } var elm = svcrm.formBuilderScripts.validCodeElement; var found = false; while(elm.parentNode && !found){ if(elm.parentNode.getElementsByTagName('form') && elm.parentNode.getElementsByTagName('form')[0] && elm.parentNode.getElementsByTagName('form')[0].name.indexOf('frm_') != -1){ elm = elm.parentNode.getElementsByTagName('form')[0]; found = true; }else{ elm = elm.parentNode; } } var the_crmform = elm; the_crmform.id = 'the_crmform'; the_crmform.onsubmit = function(e){ svcrm.formBuilderScripts.checkCapMatch(); if (svcrm.formBuilderScripts.captchaValid !== true){ alert('This information cannot be sent at this time!nnThe 4 character string you entered does not match the image shown.'); return false; }else { return svcrm.formBuilderScripts.validateForm(the_crmform); } return false; }; }; svcrm.formBuilderScripts.checkCapMatch = function(){ var scriptID = 'captchaCheckJSONP'; //kill the existing one if we have one if(document.getElementById(scriptID)){ document.getElementById(scriptID).parentNode.removeChild(document.getElementById(scriptID)); } var validCode = svcrm.formBuilderScripts.validCodeElement.value; var checkCode = escape( document.getElementById('code_key').value ); if(validCode.length != 4){ svcrm.formBuilderScripts.setCaptchaImg(false); return false; }else{ //jsonP this thing over var s = document.createElement('script'); s.id = scriptID; s.type = 'application/javascript'; s.src = 'https://virginia.simpleviewcrm.com/webapi/formbuilder/checkcaptcha.cfm?validCode='+validCode+'&checkCode='+checkCode+'&jsonp=svcrm.formBuilderScripts.getCaptchaLookupResults' document.body.appendChild(s); } }; svcrm.formBuilderScripts.getCaptchaLookupResults = function(rtn){ if (rtn) { svcrm.formBuilderScripts.setCaptchaImg(true); }else { svcrm.formBuilderScripts.setCaptchaImg(false); } }; svcrm.formBuilderScripts.setCaptchaImg = function(ok) { var existingCIMG = document.getElementById('capimage'); if (!existingCIMG || existingCIMG.length == 0){ var cimgtag = document.createElement('IMG'); cimgtag.id = 'capimage'; cimgtag.alt= "Verification"; svcrm.formBuilderScripts.validCodeElement.parentNode.appendChild(cimgtag); existingCIMG = document.getElementById('capimage'); } if (ok) { existingCIMG.src = 'https://virginia.simpleviewcrm.com/core_crm/resources/images/true_ico.gif'; svcrm.formBuilderScripts.captchaValid = true; }else { existingCIMG.src = 'https://virginia.simpleviewcrm.com/core_crm/resources/images/false_ico.gif'; svcrm.formBuilderScripts.captchaValid = false; } }; /* +++++++++++++++++++++++++++ BEGIN Script copied from OLD CMS /includes/scripts/formValidations.js +++++++++++++++++++++++++++++++++++++*/ /*Utility Functions, namespaced for nodejs cms sites*/ //Function to format floats //returns false if invalid //dec = number of decimal places to show svcrm.formBuilderScripts.fmtFloat = function(obj, dec){ var lt = "", rt = "", str = "" var inc = 0, num = 0, tmp = 0 if (obj.value.length == 0) obj.value = "0"; if (!svcrm.formBuilderScripts.checkChars(obj.value, ".,0123456789")) return false; // Check for valid number svcrm.formBuilderScripts.stripChars(obj, ","); if (!svcrm.formBuilderScripts.checkNumber(obj.value)) return false; //Split number inc = Math.pow(10, dec); num = (obj.value * 1.0); num = Math.round(num * inc) / inc; str = "" + num; tmp = str.indexOf("."); if (tmp < 0) { str += "."; tmp = str.indexOf("."); } if ((str.length - tmp) <= dec) for (var i = (str.length - tmp); i 0) return false; else { if (sign == 0) num = obj.value.substring(1,obj.value.length); else num = obj.value; if (!svcrm.formBuilderScripts.checkNumber(num)) return false; } // Check precision, round-up if necessary if (num.indexOf(".") != -1) num = "" + (Math.round(num * 100) / 100.0); dec = num.indexOf("."); cents = ((dec > 0) ? num.substring(dec,num.length) : ".00"); if (cents.length == 2) cents += "0"; // Add commas dollars = "" + parseInt(num); for (var i = dollars.length – 1; i >= 0; i–) { if (count == 3) { tmp = "," + tmp; count = 1; } else count ++; tmp = dollars.charAt(i) + tmp; } } // Format number num = "$" + tmp + cents; obj.value = num; return true; }; //Function to format phone numbers //returns false if invalid svcrm.formBuilderScripts.fmtPhone = function(obj){ var phone = ""; var oldphone = ""; if (obj.value.length == 0) return true; //Remove formatting oldphone = obj.value; svcrm.formBuilderScripts.stripChars(obj, "- ()"); phone = obj.value; if (!svcrm.formBuilderScripts.checkChars(phone, "0123456789")) return false; if (phone.length == 10) obj.value = "(" + phone.substring(0,3) + ") " + phone.substring(3,6) +"-" + phone.substring(6,10); else { obj.value = oldphone; return false; } return true; }; //Function to format social security numbers //returns false if invalid svcrm.formBuilderScripts.fmtSSN = function(obj){ var ssn = "" if (obj.value.length == 0) return true; //Remove all dashes svcrm.formBuilderScripts.stripChars(obj, "-"); ssn = obj.value; if (!svcrm.formBuilderScripts.checkChars(ssn, "0123456789")) return false; if (ssn.length == 9) obj.value = ssn.substring(0,3) + "-" + ssn.substring(3,5) + "-" + ssn.substring(5,9); else return false; return true; }; //Function to verify valid URL svcrm.formBuilderScripts.fmtURL = function(obj){ if (obj.value.length == 0) return true; if (obj.value.substring(0,7) != "http://") obj.value = "http://" + obj.value; if (obj.value.length < 10) return false; return true; }; //Function to format zip codes //returns false if invalid svcrm.formBuilderScripts.fmtZip = function(obj){ var numberlist = "0123456789", zip = "" if (obj.value.length == 0) return true; // Remove dashes svcrm.formBuilderScripts.stripChars(obj, "-"); zip = obj.value; if (!svcrm.formBuilderScripts.checkChars(zip, numberlist)) return false; if (zip.length == 5) obj.value = zip; else if (zip.length == 9) obj.value = zip.substring(0,5) + "-" + zip.substring(5,9) else return false; //Passed all tests return true; }; //Returns true if every character is in string list //otherwise false svcrm.formBuilderScripts.checkChars = function(val, charlist){ for (var i = 0; i < val.length; i++) if (charlist.indexOf(val.charAt(i)) < 0) return false; //String passed so it is valid return true; }; //Returns true if valid email //otherwise returns false svcrm.formBuilderScripts.checkEmail = function(obj){ if (obj.value.length != 0) { var pattern = /^['&a-zA-Z0-9._%+-]+@(?:[&a-zA-Z0-9-]+.)+(([a-zA-Z]{2,4})|(aero|coop|info|museum|name|travel))$/; if (!pattern.test(obj.value)) { return false; } else { return true; } } // Valid, passed all tests return true; }; //Returns true if valid phone //otherwise returns false svcrm.formBuilderScripts.checkPhone = function(obj){ if (obj.value.length != 0) { var pattern = /^([+][0-9]{1,3}[ .-])?([(]{1}[0-9]{2,6}[)])?([0-9 .-/]{3,20})((x|ext|extension)[ ]?[0-9]{1,4})?$/; if (!pattern.test(obj.value)) { return false; } else { return true; } } // Valid, passed all tests return true; }; //Returns true if value is a number or is NULL //otherwise returns false svcrm.formBuilderScripts.checkInteger = function(object_value){ if (object_value.length == 0) return true; if (object_value.indexOf(".") < 1) return svcrm.formBuilderScripts.checkNumber(object_value); else return false; }; //Returns true if value is a number or is NULL //otherwise returns false svcrm.formBuilderScripts.checkNumber = function(object_value){ if (object_value.length == 0) return true; //Returns true if value is a number defined as // having an optional leading + or -. // having at most 1 decimal point. // otherwise containing only the characters 0-9. var start_format = " .+-0123456789"; var number_format = " .0123456789"; var check_char; var decimal = false; var trailing_blank = false; var digits = false; //The first character can be + - . blank or a digit. check_char = start_format.indexOf(object_value.charAt(0)) //Was it a decimal? if (check_char == 1) decimal = true; else if (check_char < 1) return false; //Remaining characters can be only . or a digit, but only one decimal. for (var i = 1; i < object_value.length; i++) { check_char = number_format.indexOf(object_value.charAt(i)) if (check_char < 0) return false; else if (check_char == 1) { if (decimal) // Second decimal. return false; else decimal = true; } else if (check_char == 0) { if (decimal || digits) trailing_blank = true; // ignore leading blanks } else if (trailing_blank) return false; else digits = true; } //All tests passed return true }; //Returns true if value is a posiitve integer or is NULL //otherwise returns false svcrm.formBuilderScripts.checkPosInteger = function(object_value){ if (object_value.indexOf("-") != -1) return false; else return (svcrm.formBuilderScripts.checkInteger(object_value)); }; //Function to find any char in charlist in the passed string //Returns true if a character is found //Otherwise false svcrm.formBuilderScripts.findChars = function(str, charlist){ for (var i = 0; i < charlist.length; i++) { if (str.indexOf(charlist.charAt(i)) != -1) return true; } return false; }; //Function to remove all occurances of chars in charlist svcrm.formBuilderScripts.stripChars = function(obj, charlist){ var i = 0, pos = 0 var val = obj.value while (i < val.length) { pos = charlist.indexOf(val.charAt(i)); if (pos != -1) val = val.substring(0,i) + val.substring(i + 1, val.length); else i++; } obj.value = val; return true; }; svcrm.formBuilderScripts.cntChars = function(val, charlist){ var i = 0, pos = 0, cnt = 0 for (i = 0; i 0) { tt = tt.toUpperCase(); if (tt != 'AM' && tt != 'PM') return false; val = svcrm.formBuilderScripts.strChars(val, ' ampAMP'); } var sepr = val.indexOf(':') if (sepr == -1) { hr = val; mn = 0; } else { hr = val.substring(0, sepr); mn = val.substring(sepr + 1, val.length); } if (isNaN(mn)) mn = 0; if (!svcrm.formBuilderScripts.chkChars(hr, '0123456789')) return false; if (!svcrm.formBuilderScripts.chkChars(mn, '0123456789')) return false; if (hr 23) return false; if (mn 59) return false; if (hr > 12) { tt = 'PM'; hr = hr – 12; } else if (hr == 0) { tt = 'AM'; hr = 12; } if (mn.toString().length == 0) mn = 0; if (tt.length == 0) { if (hr == 12) tt = 'PM'; else if (hr < 7) tt = 'PM'; else tt = 'AM'; } str = hr; if (mn.toString().length == 1) str = str + ':0' + mn; else str = str + ':' + mn; str = str + ' ' + tt; fld.value = str; return true; }; //Function to remove all occurances of chars in charlist svcrm.formBuilderScripts.strChars = function(val, charlist){ var i = 0, pos = 0 while (i < val.length) { pos = charlist.indexOf(val.charAt(i)); if (pos != -1) val = val.substring(0,i) + val.substring(i + 1, val.length); else i++; } return val; }; svcrm.formBuilderScripts.chkChars = function (val, charlist){ for (var i = 0; i < val.length; i++) if (charlist.indexOf(val.charAt(i)) < 0) return false; return true; }; /* +++++++++++++++++++++++++++ END Script copied from OLD CMS /includes/scripts/formValidations.js +++++++++++++++++++++++++++++++++++++*/ /* +++++++++++++++++++++++++++ BEGIN Script copied from OLD CMS /includes/scripts/dateValidate.js +++++++++++++++++++++++++++++++++++++*/ // Author: Bill Simpson // Company: 220solutions.com // Email: bill@cfarley.com // Date Created: 02-09-2001 // // Verifies and converts date strings to a valid format // // Valid input dates = // mdyy, mmdyy, mmddyy, mmmddyy, mmddyyyy, mmmddyyyy, // m/d/yy, m/dd/yy, mm/d/yy, mm/dd/yy, mmm/d/yy, mmm/dd/yy, // m/d/yyyy, m/dd/yyyy, mm/d/yyyy, mm/dd/yyyy, mmm/d/yyyy, mmm/dd/yyyy // Valid date seperators = '-./:_, ' // // Notes: Please feel free to use/edit this script. // If you do please keep comments and header // // Code based on functions from // Author: Simon Kneafsey // Email: simonkneafsey@hotmail.com // WebSite: www.simonkneafsey.co.uk // Function to convert supplied date string 'fld' // fld: field containing date string // sep: seperator to use e.g. '-' or '/' // returns false if date string is invalid svcrm.formBuilderScripts.fmtDate = function(fld,sep){ var len = fld.value.length; var seps = new Array('-','.','/',':','_',',',' '); // Array of seperators. var d = '', m = '', y = ''; // date part holders //var div = ''; // divider holder //var outdate1 = null; // formatted date to send back to calling field holder var sepholder = new Array('0','0','0'); // array to hold positions of dividers in dates var s = String(fld.value); var outdate = ''; if (len == 0 ) return true; // Accept 'today' or 'now' if (fld.value.toUpperCase() == 'NOW' || fld.value.toUpperCase() == 'TODAY' ) { var newDate = new Date(); var myDay = newDate.getDate(); var myMonth = newDate.getMonth() + 1; if (navigator.appName == 'Netscape') var myYear = newDate.getYear() + 2000; else var myYear = newDate.getYear(); fld.value = myMonth + "-" + myDay + "-" + myYear; // update string info len = fld.value.length; s = String(fld.value); } // Check the date is a valid length if (len 11) return false; // Find positions of divider in the date var cnt = 0; for (var i = 0; i < 3; i++) { for (var j = 0; j < seps.length; j++) { if (s.indexOf(seps[j],cnt) != -1) { div = seps[j]; sepholder[i] = s.indexOf(seps[j],cnt); cnt = sepholder[i] + 1; break; } } } // If element 2 is not 0 then more than 2 dividers have been found so date is invalid. if (sepholder[2] != 0) return false; // if no dividers are found strip out date parts if (sepholder[0] == 0 && sepholder[1] == 0) { switch (len) { case 4: // mdyy m = '0' + s.substring(0,1); d = '0' + s.substring(1,2); y = s.substring(2,4); if ((y = svcrm.formBuilderScripts.chkYear(y)) == false) return false; break; case 5: // mmdyy m = s.substring(0,2); d = '0' + s.substring(2,3); y = s.substring(3,5); if ((y = svcrm.formBuilderScripts.chkYear(y)) == false) return false; break; case 6: // mmddyy m = s.substring(0,2); d = s.substring(2,4); y = s.substring(4,6); if ((y = svcrm.formBuilderScripts.chkYear(y)) == false) return false; break; case 7: //mmmddyy m = s.substring(0,3); d = s.substring(3,5); y = s.substring(5,7); if ((m = svcrm.formBuilderScripts.chkMonth(m)) == false) return false; if ((y = svcrm.formBuilderScripts.chkYear(y)) == false) return false; break; case 8: //mmddyyyy m = s.substring(0,2); d = s.substring(2,4); y = s.substring(4,8); break; case 9: //mmmddyyyy m = s.substring(0,3); d = s.substring(3,5); y = s.substring(5,9); if ((m = svcrm.formBuilderScripts.chkMonth(m)) == false) return false; break; default: return false; } if ((outdate = svcrm.formBuilderScripts.chkDate(m,d,y,sep)) == false) return false; // valid date fld.value = outdate; return true; } else if (sepholder[0] != 0 && sepholder[1] != 0) { // process with dividers m = s.substring(0, sepholder[0]); d = s.substring(sepholder[0] + 1, sepholder[1]); y = s.substring(sepholder[1] + 1, s.length); } else // Only one divider return false; // Check day and year are numeric if (isNaN(d) && isNaN(y)) return false; // Make d day dd if (d.length == 1) d = '0' + d; // Make m month mm if (m.length == 1) m = '0' + m; // Make yy year yyyy if (y.length == 2) if ((y = svcrm.formBuilderScripts.chkYear(y)) == false ) return false; // Make mmm month mm if (m.length == 3 || m.length == 4) { if ((m = svcrm.formBuilderScripts.chkMonth(m)) == false) return false; } // Date components are OK if (d.length != 2 || m.length != 2 || y.length != 4) return false; // Validate the date if ((outdate = svcrm.formBuilderScripts.chkDate(m,d,y,sep)) == false) return false; // Valid date fld.value = outdate; return true; }; // checks for a valid date // m: month part (2 digit) // d: day part (2 digit) // y: year part (4 digit) // returns: date string formatted if valid, false if invalid svcrm.formBuilderScripts.chkDate = function(m, d, y, sep){ var dayArray = new Array(31,28,31,30,31,30,31,31,30,31,30,31); var dstr = m + d + y; var filter=/^[0-9]{2}[0-9]{2}[0-9]{4}$/; // Check mmddyyyy date supplied if (!filter.test(dstr)) return false; // Check valid month filter=/01|02|03|04|05|06|07|08|09|10|11|12/; if (!filter.test(m)) return false; // Check year if (y 2078) return false; // Check for leap year var n = Number(y); if (n % 4 == 0 && (n % 100 != 0 || n % 400 == 0)) dayArray[1] = 29; // Check for valid days for month var mnum = Number(m); if (d > dayArray[mnum – 1] || d <= 0) return false; // Valid date return m + sep + d + sep + y; }; // Checks for valid month // m: month part (3 or 4 digit) // returns: 2 digit month if valid, false is invalid svcrm.formBuilderScripts.chkMonth = function(m){ var months = new Array('JAN','FEB','MAR','APR','MAY','JUN','JUL','AUG','SEP','OCT','NOV','DEC'); m = m.toUpperCase(); if (m.length == 3) { for (var i = 0; i < 12; i++) { if (m == months[i]) { m = i + 1; if (i < 10) m = '0' + m; return m; } } } else if (m.length == 4 && m == 'SEPT') { m = '09'; return m; } else return false; }; // Check for a valid year // y: year part (2 digit) // returns: 4 digit year if valid, false if invalid svcrm.formBuilderScripts.chkYear = function(y){ if (y = 75) { y = "19" + y; return y; } else return false; }; svcrm.formBuilderScripts.showDate = function(baseURL, fld, frm) { var urlSeparator = '?'; if("https://www.virginia.org/plan-your-trip/virginia-travel-guide/".indexOf('?') != -1){ urlSeparator = '&'; } var str = "https://www.virginia.org/plan-your-trip/virginia-travel-guide/" + urlSeparator + "action=popupCal&frm=" + frm + "&fld=" + fld + '&randid=' + new Date().getTime(); if (eval("document." + frm + "." + fld).value.length > 0) str = str + "&cdate=" + eval("document." + frm + "." + fld).value; svcrm.formBuilderScripts.openPopup(str, "calwin", 210, 210, "width=210,height=210,toolbar=no,status=no,directories=no,menubar=no,resizable=no,scrollable=no", true); }; svcrm.formBuilderScripts.openPopup = function(url, name, pWidth, pHeight, features, snapToLastMousePosition) { svcrm.formBuilderScripts.openPopupFocus(url, name, pWidth, pHeight, features, snapToLastMousePosition, true); }; svcrm.formBuilderScripts.closePopup = function(){ if (svcrm.formBuilderScripts.curPopupWindow != null) { if (!svcrm.formBuilderScripts.curPopupWindow.closed) svcrm.formBuilderScripts.curPopupWindow.close(); svcrm.formBuilderScripts.curPopupWindow = null; } }; svcrm.formBuilderScripts.openPopupFocus = function(url, name, pWidth, pHeight, features, snapToLastMousePosition, closeOnLoseFocus) { svcrm.formBuilderScripts.closePopup(); if (snapToLastMousePosition) { if (svcrm.formBuilderScripts.lastMouseX – pWidth screen.height) { svcrm.formBuilderScripts.lastMouseY -= (svcrm.formBuilderScripts.lastMouseY + pHeight + 50) – screen.height; } svcrm.formBuilderScripts.lastMouseX -= pWidth; svcrm.formBuilderScripts.lastMouseY += 10; features += "screenX=" + svcrm.formBuilderScripts.lastMouseX + ",left=" + svcrm.formBuilderScripts.lastMouseX + "screenY=" + svcrm.formBuilderScripts.lastMouseY + ",top=" + svcrm.formBuilderScripts.lastMouseY; } if (closeOnLoseFocus) { curPopupWindow = window.open(url, name, features, false); curPopupWindow.focus(); } else { win = window.open(url, name, features, false); win.focus(); } }; svcrm.formBuilderScripts.setLastMousePosition = function(e) { if (navigator.appName.indexOf("Microsoft") != -1) e = window.event; svcrm.formBuilderScripts.lastMouseX = e.screenX; svcrm.formBuilderScripts.lastMouseY = e.screenY; }; /* +++++++++++++++++++++++++++ END Script copied from OLD CMS /includes/scripts/dateValidate.js +++++++++++++++++++++++++++++++++++++*/ /* +++++++++++++++++++++++++++ BEGIN Script copied from OLD CMS /includes/scripts/ziplookup.js +++++++++++++++++++++++++++++++++++++*/ svcrm.formBuilderScripts.zipLookup = function(fuseroot, zip, fldCity, fldState){ var scriptID = 'zipLookupJSONP'; //kill the existing one if we have one if(document.getElementById(scriptID)){ document.getElementById(scriptID).parentNode.removeChild(document.getElementById(scriptID)); } if (svcrm.formBuilderScripts.trim(zip).length != 5 || !svcrm.formBuilderScripts.checkChars(zip, "0123456789")){ return false; }else{ //jsonP this thing over var s = document.createElement('script'); s.id = scriptID; s.type = 'application/javascript'; s.src = 'https://virginia.simpleviewcrm.com/webapi/formbuilder/ziplookup.cfm?zip='+zip+'&fldCityId='+fldCity.id+'&fldStateId='+fldState.id+'&jsonp=svcrm.formBuilderScripts.processZipChange' document.body.appendChild(s); } }; svcrm.formBuilderScripts.processZipChange = function(rtn){ var fldCity = document.getElementById(rtn.fldCityId); var fldState = document.getElementById(rtn.fldStateId); if (rtn.city.length > 0 && fldCity != ") fldCity.value = rtn.city; else if (fldCity != ") fldCity.value = "; if (rtn.state.length > 0 && fldState != ") { for (var i = 0; i
Source
Auto Amazon Links: No products found.
Auto Amazon Links: No products found.
Auto Amazon Links: No products found.