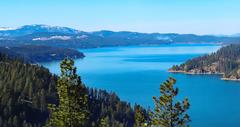 Situated between Canada and Nevada on the western side of the Rocky Mountains, Idaho is vast. With rugged mountains in its central area, verdant hillsides, endless farmlands with open vistas and rapid rivers, Idaho is the land of agriculture, fun outdoor activities and charming small towns. Idaho is home of the cosmopolitan Boise, the University of Idaho, the magnificent Sun Valley, historic Custer and many other great places to visit. Here are the best Idaho destinations. CDC information for travelers. Hours/availability may have changed.
1. Boise
© Courtesy of Sergey Novikov – Fotolia.com
Located in the tree-lined lush valley of the Boise River in southwestern Idaho in a high-desert area of the Rocky Mountain foothills, Boise is a lively university town with Boise State University students dominating the cultural and sport life. The Boise downtown area, focused around 8th Street, is full of restaurants and sidewalk cafes, galleries, and shops.
Basque Block accounts for the city's Basque heritage. As you stroll through downtown, check out the imposing Idaho State Capitol, the Boise Art Museum, renowned classic Egyptian Theatre, and verdant Julia Davis Park with the Zoo Boise, strolling paths, and picnic areas. Don't miss a visit to the unique blue field of the Albertsons Stadium located on the BSU campus, home to the football team the Boise State Broncos. Things to Do in Boise
Fun day trip ideas close to me, things to do this weekend, small towns, best weekend getaways: Getaways in California, East Coast beaches, NC quick trip, Romantic weekend getaways
2.Idaho Falls
© Courtesy of searagen – Fotolia.com
Stretched beneath the majestic Grand Teton in the Snake River Plain, Idaho Falls is known for its warm western hospitality, active arts community, and spectacular nature to explore and enjoy. Art lovers should check what the local artists are doing at the Art Museum of Eastern Idaho and the Willard Arts Center. You can also enjoy "Art You Can Sit On," a collection of benches scattered downtown designed by several local artists.
The venues for the performing arts include the Colonial 7 in its beautiful Greek neoclassical building and the Actors' Repertory Theatre of Idaho at the Phoenix Theatre, which offers a series of award-winning shows every year. Local and visiting outdoor enthusiasts have 35 parks and green spaces with playing fields and trails. The popular five-mile Idaho Falls Greenbelt found on both sides of the Snake River is perfect for walking or biking. If you are looking for cool places in Idaho, Idaho Falls is the place to go. Things to Do in Idaho Falls
You are reading "25 Best Idaho Destinations" Back to Top
Things to do near me today, beaches with kids, romantic parks, unique places to visit in USA right now, hotels, tourist attractions: Weekend Getaways from Seattle, NC day trips, FL, Near Atlanta, AL
3. Coeur d'Alene
© Courtesy of Gregory Johnston – Fotolia.com
When the glaciers withdrew about ten thousand years ago, they left behind 55 magnificent lakes, all just a short drive from today's Coeur d'Alene area, making the city a magical place to visit and explore. Take one of the lovely, leisurely boat cruises on Lake Coeur d'Alene and admire the views of the city and surrounding nature. The Museum of North Idaho will teach you about the fascinating and turbulent history of the area.
Take the kids to the Silverwood Theme Park for one of 70 slides, rides and attractions. There is a special event every month of the year, and Art Walk, which covers seven galleries in a seven block downtown area, takes place every month. Enjoy a show at the Coeur d'Alene Summer Theatre or Coeur d'Alene Arts & Culture Alliance. The Art Spirit Gallery will fascinate you with artworks produced by local artists. Things to Do in Coeur d'Alene
You are reading "25 Best Idaho Destinations" Back to Top
Long weekend getaways with friends near you, weather, best small towns, what should I do in for couples, cheap, with friends, nearby beach, fun things to do near me today: CO, From San Diego, VA, OH, WI, MI, IL, IL, VA, San Diego, TX
4.Pocatello
© Courtesy of jamespaulsen – Fotolia.com
Pocatello is the only town in the world with a municipal ordinance making it illegal not to smile. It started as a joke to lift people's spirits during a particularly brutal winter, but it ended up being a major part of what Pocatello is today – a great place to live and visit. Founded by pioneers, gold miners, and settlers in 1889, Pocatello is called the "Gateway to the Northwest."
Today, Pocatello has a rich cultural life thanks to the Palace Playhouse theatre, Westside Players Dinner Theater located in Pocatello's Historic Warehouse District, and the Old Town Actors Studio. The Idaho Museum of Natural History features collections in anthropology, life sciences, and earth sciences, while the Shoshone-Bannock Fort Hall Reservation showcases the area's tribal history. In the winter, The Mink Creek Nordic Ski Complex has trails for everyone, and when the snow melts, there is hiking, biking, golf, fishing, bird watching, and so much more.
You are reading "25 Best Idaho Destinations this Weekend with Friends" Back to Top or More places to see near me today, what to do, weekend trips
Nearest romantic getaways today at night, places near me, local wedding venues, best small beach town, restaurants, outside, things to do with kids near me, staycation, beaches, resorts near me, how do I plan: NC beaches, Ft Lauderdale, Day trips from NYC, From Chicago, PA, CT, CA, Hilton Head, Castles in Texas, GA beaches
5.Salmon
© Courtesy of Parilov – Fotolia.com
Salmon is a small Idaho town on the edge of the vast Frank Church-River of the No Return Wilderness and is a gateway to some of the best fishing, hunting, and outdoor recreation. It was built by intrepid Western explorers and a short way from downtown Salmon are the Lewis and Clark Back Country Byway, the Salmon River Scenic Byway, and the Sacajawea Historic Byway. Outdoor adrenaline junkies flock from all over the world to raft the fast middle fork of the River Salmon. The surrounding Salmon and Lemhi Valley ranges also invite exploration and there is skiing, ice skating, ice fishing, and snowboarding in the winter. Biking is a very popular sport in Salmon and there are miles of scenic trails for bikers.
You are reading "25 Best Idaho Destinations this Weekend" Back to Top or Restaurants near me, stuff to do near me
Where should I go this weekend for fun, adventurous places to visit near me today, famous for, kid friendly, hotels open near me, what can you do in for free, beaches, resorts near me, time zone, best restaurants near me, natural wonders: FL, CA, Myrtle Beach, OR, New England weekend, Charlotte, Williamsburg, LA, PA
6.Sandpoint
© Courtesy of jfergusonphotos – Fotolia.com
Sandpoint has its own fine sand beach in its downtown core. The beach is on the huge Lake Pend Oreille, with three massive mountains shading it, 111 miles of shoreline, and the entire city life revolving around it. Sandpoint is vibrant and fun, with a wonderful Farmers' Market, an open air space where local producers offer their fresh fruits and vegetables and handicrafts. There is also live music.
Another unique market place is the Cedar Street Bridge Public Market with a series of shops, restaurants, and seasonal events happening on the bridge over Sand Creek right in the downtown Sandpoint. Art lovers can easily find something to satisfy their interest with two-dozen galleries all over town; one great example is Hallans Gallery. Kids will love Silverwood Theme Park with 60 rides, attractions, and shows. You can learn about the city past at the beautiful Bonner County Historical Society and Museum, and when it comes to skiing, it is difficult to beat the award-winning Schweitzer Retreat.
You are reading "25 Best Idaho Destinations" Back to Top or More must do for couples, what to do near me, places to visit this weekend
Where can I go for top-rated things to see near me, fun things to do today, hotels near me, with toddler, social distancing, places near me, list of, stuff to do near me, rentals, beach and last minute resort ideas for couples, places to hike near me: Denver, Sanibel Island, Boca Raton, Louisville, CA, Virginia Beach, San Antonio, AZ
7.Mountain Home
© Courtesy of Jimmy Emerson, DVM – Fotolia.com
Snuggled between the Danskin and Owyhee Mountains, Mountain Home was originally just a post office at Rattlesnake Station and a stagecoach stop on the Overland Stage Line. Today, it is a lively rural community less than 40 miles from Boise. It is home of the Mountain Home Air Force base, and the city and base lives are intricately linked. The surrounding mountains offer spectacular outdoor adventures. Start with Bruneau Canyon Overlook, which offers a magnificent view of the 800 feet deep canyon of the Bruneau River.
Bruneau Dunes State Park, with 470 feet tall sand dunes towering above two small lakes, offers very different picture of the area. Learn about the area history at the Mountain Home Historical Museum or visit historic Silver City, established in 1864, where you can imagine the way of life of the early settlers and even pan for gold yourself. Enjoy the lush green Three Island Crossing State Park on the Snake River and visit the Oregon Trail History & Education Center located in the park to learn about the early pioneers and Native Americans living in the area at the time.
You are reading "25 Best Idaho Destinations" Back to Top or More tourism, attractions for couples, food, things to see near me today
Top things to see near me, beaches, cruises, parks near me, underrated tourist attractions downtown, travel blog, attractions, places near me right now, things to do near me, vacations, resorts near me, family weekend breaks, mountains, open now, tonight, breakfast near me, affordable rental, kids activities near me, campgrounds near me: Catskills, Pink Sand beaches, Best Places to Visit, Bar Harbor, Destin, Minneapolis, Jacksonville, Wedding, Key West, Nashville, AZ
, From LA
8.Meridian
© Courtesy of knowlesgallery – Fotolia.com
Meridian is a friendly small town in the heart of the Treasure Valley established in 1891. Early settlers built Settlers' Irrigation Ditch in 1892 and transformed the fairly arid region into a thriving farming community. When a creamery was built in 1897 followed by the establishment of other dairy-related businesses, Meridian became known as a dairy center for the state. For a small town, there is a lot going on in Meridian.
The Meridian Symphony Orchestra is more than 20 years old, and artists display their latest creation in the Initial Point Gallery at Meridian City Hall. The Meridian History Center is also located in City Hall and houses archived photos, documents, and artifacts, from Meridian's past. If you are visiting Meridian with kids, take them to the Roaring Springs, a large water park, or to Wahooz, an entertainment complex with go carts, miniature golf, bumper boats, bowling, an arcade, and more.
There are seventeen public parks in the city, the most popular of which is the Meridian Settlers Regional Park where free movies are shown during the summer. The true heart of the city is the Village at Meridian, large outdoor shopping mall with shops, ice rink, theater, arcade, a playground, and a fountain. There is a music and light show every hour in the playground.
Where can you get away, beaches near me, luxury tourism, resorts & family weekend hotels to visit around me with kids, outdoor activities, things to do near me, weekend getaways, dinner near me, entertainment, places to go, hiking trails near me: Berkeley, Tybee Island, Nantucket, NH resorts, MN resorts, Kona, Pasadena, ND, ME, From Boston, Salt Lake City
9.Idaho Destinations: Nampa
© Courtesy of knowlesgallery – Fotolia.com
Nampa is located in Southwest Idaho in the heart of Idaho's wine country. The city was established in the early 1880s when the Oregon Short Line Railroad passed through the community. As the importance of railroad grew, Nampa became an important and thriving railroad town. The historic Oregon Short Line Depot was built in 1903 to celebrate and showcase the history of the railroad and Nampa. The heart of Nampa is its Historic Downtown, a dedicated Main Street community with numerous shops, galleries, and restaurants.
Celebration Park, located on the Paiute Indians' wintering ground, is the city 's most popular park, and it features unique 12,000 years old Indian art. Deer Flat National Wildlife Refuge includes beautiful 11,000-acre Lake Lowell, and it is a popular spot for watching wildlife, hunting, fishing, and environmental education. Crescent Brewery LLC will treat you with their great craft beer and live music every Saturday night.
"25 Best Idaho Destinations for Locals & Tourists – Restaurants, Hotels" Back to Top or Beautiful places near me, what to do, restaurants for breakfast, travel guide, nearest beach
What to do near my location downtown at night in fall, winter, spring, spa near me, summer, places to go, wedding venues near me, beach, wedding venues, open parks, hotels near me, burger, nature park, nice restaurants near me: NC, NM, ME, VegasFrom LA, WY, Hot Springs, Midwest , Things to Do in Reno, Ohio castles,, KY, South Padre Island, Dream vacation spots
10.Ketchum
© Courtesy of vividcorvid – Fotolia.com
When it was established in 1880, the town of Ketchum was one of the richest mining areas in the Northwest. With the development of the Sawtooth Recreation Area and the Sun Valley Resort, Ketchum became predominantly a tourist resort and recreation area. The city attracts tourists for its fabulous fishing, trail riding, hiking, tennis, art galleries, and more. Ketchum was also the last home to Ernest Hemingway, who was buried in Ketchum Cemetery. You can visit his memorial on Trail Creek Road. Ketchum has a rich art scene. Sun Valley Center for the Arts has an excellent theatre, productions of visual arts, and music and educational programs.
Ketchum has nine major art galleries, and there is the annual Art Walk, when all galleries are open. The best place to learn about the city's history is Ketchum Sun Valley Historical Society. Ore Wagon Museum celebrates the city's mining origins and has a great collection of original 1880's ore wagons used in the historic Wood River Valley. If you come in the winter and love to ski, a visit to the Sun Valley Resort is a real treat. In the summer, don't miss visiting magical Sawtooth National Forest.
What is there to do near me this weekend, water park, menu, mountain, hill, waterfalls, cafe, eat, flights, California, Texas, Florida, Virginia, Ohio, caves, pet travel, shore, casino, buffet, wineries, rental, charter, new restaurants, nature parks, best all inclusive resorts near me: Florida Keys, IN, Healdsburg CA, Madison, Best beaches in USA Water parks in Texas, New Braunfels, Long Island, NY, NC, OK, OR, Day Trips in Southern California, Cocoa Beach, CA, Harpers Ferry, Durham
11.Sun Valley
© Courtesy of Steve Dorsey – Fotolia.com
Sun Valley is a small resort city in central Idaho within the larger Wood River valley. It is adjacent to Ketchum, and the cities share many resources. The entire city is a large playground – you can go ice-skating, riding, hiking, biking, golfing, fishing, and playing tennis. But, most people associate Sun Valley with spectacular skiing on Bold and Dollar Mountains. No wonder Bruce Willis and Schwarzenegger name Sun Valley as their favorite ski vacation spot.
Sun Valley has a thriving art scene, and the best way to explore it is during the monthly Gallery Walks. The Sun Valley Museum of History brings the past of Sun Valley to life, and Forest Service Park will delight you with weekly free live concerts. Sun Valley has its own opera and October Jazz Festival and the Sun Valley Writers' Conference, which brings writers and readers together.
"25 Best Idaho Destinations" Back to Top or Romantic Getaways, Wedding Ideas close to me this weekend, honeymoon, anniversary Ideas, fun places near me
Cool places to go near me in spring, couple, activity, what is, time, fine dining near me, fancy restaurant, activities near me, beach hotels, fishing, parks near me, campground, RV resorts, winery, what's near me, bay, attractions near me, list of, orchards, national parks: MA, FL, Caribbean, All-inclusive Jamaica, AR, CO, ME, KS, CT, Missouri caves, Gadsden, Pismo Beach, Blue Ridge, Best caves in Missouri, Beaches Near Atlanta, NJ, FL caves
12.McCall
© Courtesy of Jasperdo – Fotolia.com
Located on the shores of Payette Lake, at the heart of the Payette National Forest, McCall is a small resort town that, once a former logging community, is today famous for its Winter Carnival. Even during its logging days, the city attracted tourists who loved the opportunities for fantastic skiing, snowboarding, snowshoeing, hiking, golf, biking, river rafting, camping, kayaking, fishing, jet skiing, boating, sunbathing, watching wildlife and so much more.
The two major skiing mountains are Little Ski Hill and Brundage Mountain with five chairlifts. If you get tired of the constant adrenaline rush, visit Central Idaho Historical Museum to learn about the area's history, take the kids to the PLAYLive McCall gaming center, dip into the natural Burgdorf Hot Springs, or take a leisurely cruise on the magnificent Payette Lake.
Free things to do near me known for tourists & historical must see attractions for adults in April, May, June, July, August 2020, January, February, March, restaurants that deliver, take-out, drive-thru, swimming, last minute day trips, coast, lake, reservoir, kayaking near me, glamping, diner, kitchen, suite, public parks, outdoor activities near me, places to get married: Anaheim, Things to Do in Vermont, Hawaii resorts, OH, Northern CA beaches, Holland, MI, Galveston, Ellensburg WA, Encinitas, LA, ME, MD, MI, Canada, ID, DE, MD Islands, FL
13.Craters of the Moon National Monument & Preserve
© Courtesy of Wirepec – Fotolia.com
Mountains of Idaho are very geologically active, and the whole area experiences what scientists call "stretching." What we call today Craters of the Moon are volcanoes that formed during the last eight active periods, between 15,000 and 2000 years ago. During each eruption, lava exploded out of the Great Rift – deep cracks we can see starting near the visitor center. Some of them are almost 52 miles long. This lava coming out of the Craters of the Moon created a lava field that covered 618 square miles.
During the last eruption about 2,000 years ago, two smaller lava fields – Wapi and Kings Bowl – formed near the Great Rift. The eruptions in this active area are expected to continue in the future along the weak Crater of the Moon area, where the lava is close to the surface of the earth. The volcanic activity created fantastic formations that are popular with adventure seekers and offer great hiking opportunities to explore the lava tubes, wild animal watching, and camping in the wilderness. Craters of the Moon are protected under the designation of National Monument and Reserve.
Top sights, 4 day road trip map, weather, 24 hour restaurants, 48 hours in, cheapest good restaurants for families with dogs, beaches near me, directions, events, spa resorts, elevation, summer, nice pools, healthy, romantic restaurants, forest, buffet, city, tree, dinner, rentals, tent, flight, upscale, under water, pools: Train rides in Ohio, World's Largest Swimming Pools, Kids Eat Free Restaurants, PA flea markets, Places to Visit in New England, Places to Visit in Idaho, Idaho Falls, Elevation of Boise Idaho
14.Idaho Destinations: Shoshone Falls
© Courtesy of Peter Graham Fotolia.com
Located about three miles from the city of Twin Falls, Shoshone Falls is a spectacular waterfall on Snake River. This majestic fall is called "Niagara of the West," but, at 212 feet, it is actually higher than Niagara Falls. The rim of the fall is almost 1000 feet wide.
Since the falls are created by seasonal runoff from Snake River as it carves its way through the basalt canyon on the way to Colombia River, the best time to see it is when the flow is at its peak, from April to July. The falls are a popular recreation area, and there are playgrounds, picnic areas, hiking trails, swimming areas, and a boat ramp. The best spot to watch the falls is a scenic overlook.
Places to eat near me, free points of interest, lakes near me, waterfalls, weekend getaways near me, 3-day foodie places to visit in September, October, November, December, RV, prettiest places, lodging, campground, hangout, where is, spas, holiday, museum, hiking near me, canoeing, hotels close to me, sushi, hikes, scenic spots: Tallahassee, What to Do in Oahu, Cedar Park, Coppell, Columbia
15.Yellowstone National Park
© Courtesy of norbel – Fotolia.com
Yellowstone National Park is the first national park in the world. It covers almost 3,500-sq.-mile of wilderness and is a recreation area on a volcanic hot spot. The park spreads between Wyoming, Montana, and Idaho. There are spectacular canyons, wild alpine rivers, lush ancient forests, hot springs, and gushing geysers – who has not heard of Old Faithful?
It is paradise for both wild animals and animal watchers – you can see bison, bears, wolves, elk, antelope, and much more. The best way to see the park is on foot, so put on a good pair of hiking boots and enjoy more than 1000 miles of trails, with twelve campgrounds to rest in. You can also bike, boat, and ski, depending on the season.
You are reading "25 Best Idaho Destinations" Back to Top or Amazing things to do around me & More pictures of fun cheap vacation spots
Day trips from, good restaurants near me, motel, spa hotels, southeast, northeast, southwest, northwest getaway ideas, couples only suites, public beach near me for sunsets, breakfast near me, local retreat, on a budget, takeout, most popular small town, things to do near me, drive in movie, tropical island, how to spend a day locally, state park, romantic getaways with pool: Arlington, Park City, Southwest, Places to Visit in USA, Brattleboro VT, Maine lighthouses, St. Paul, Wyoming vacations, Des Moines, Luxury vacation, Tallest roller coasters, Train Museums near me, Romantic Getaways St Augustine FL
16.Bruneau Dunes State Park
© Courtesy of rck – Fotolia.com
Bruneau Dunes State Park offers nature lovers a fun-filled weekend far from the hustle and bustle of the city, surrounded by wide open skies, fishing lakes, desert vistas and the largest sand dunes to be found in the United States. The main emphasis at the park is on getting back to nature, camping and having fun climbing the sand dunes, the largest of which rises 470 feet above the desert floor.
A good idea is to start your visit at the Visitors Center where you can get trail maps and rent a sand board. There are several trails in the park for hiking, bird watching and horse riding, but most of the fun takes place on the dunes – you can climb to the top for great views (and good exercise!) and then enjoy hurtling down the sides on a sand board.
You can hike around the small lakes, enjoy a lake-side picnic or try your luck fishing for bluegill. There is also a ramp for boating – electric motor boats only. Bruneau Dunes State Park has an observatory on-site which you can visit on weekend nights to learn all about the stars, and do some serious star-gazing through their powerful telescopes. Other activities include kite-flying and going on guided educational walks. In winter you can enjoy downhill skiing and sledding on the dunes, and the campsite is open all year round.
Weekend getaways, top 10 things to do, places to visit near me, East, West, North, South, cheap family vacation activities for birthday, hot tub, whirlpool, public transport by train, local bus, mountains, waterfalls, lakes, relaxing parks, coffee near me: Warner, Primm, Muscatine, Salina, Restaurants in Greenville, Indianapolis Wedding Venues, San Clemente Wedding, Riverside Wedding
17.Hell's Canyon National Recreation Area
© Courtesy of Zack Frank – Fotolia.com
The Hell's Canyon National Recreation Area occupies an enormous swatch of land straddling the Snake River, which forms the boundary between Idaho and Oregon. This is a wild and wonderful wilderness area to explore, encompassing soaring mountains and the amazing one-mile deep Hell's Canyon, carved by the surging waters of the Snake River.
Nature enthusiasts can lose themselves along hundreds of miles of hiking, biking and horse-riding trails, all of which present spectacular views around every corner, as well as excellent bird-watching and wildlife observation. There are hiking trails suitable for all fitness levels, ranging from easy family walks to challenging back-packing trails.
The mighty Snake River provides for some world-class white-water rafting along the floor of the canyon and adventure-seekers can enjoy a thrilling experience with Hell's Canyon Adventures, who also arrange jet-boat tours and fishing charters in the heart of the deepest gorge in America. For something a little less strenuous you can have hours of fun and relaxation exploring the smaller rivers in the area by canoe, kayak, paddleboard or raft. There are several camping areas in the Hell's Canyon National Recreation Area where you can park your RV or set up camp surrounded by pristine forest, and the Windy Saddle Horse Camp has special facilities for visitors who bring their horses with them.
You are reading "25 Best Idaho Destinations" Back to Top or More weekend getaways, what to do near me, must see attractions, stuff to do near me
Places to eat near me, coffee shops, flea, farmers market, tropical honeymoon trip finder, wedding venues near me, lunch, brunch, restaurant near me, RV camp, cruise, hotel, where to stay, sandy beach by car: Things to Do in Mendocino, Things to Do in Glenwood Springs, Waynesboro, Woodbridge, Waitsfield, Best Beaches in Europe, Things to Do in Palm Springs, Hamilton Island, Boerne, Amusement Parks, Tannersville, The Dalles, Fishing
18.Thousand Springs State Park
© Courtesy of larson755 – Fotolia.com
Thousand Springs State Park is made up of several separate and distinct areas, all of which are situated within a short drive from each other, offering visitors the chance to explore the unique volcanic geological features which make the park so enticing. At Billingsley Creek you can enjoy excellent wildlife viewing opportunities and superb fly-fishing, as well as an indoor horse-riding arena. At Mallad Gorge, where the cascading Mallad River has carved out a beautiful 250 foot gorge, you can enjoy a scenic short hike to explore the many little pools that have been formed along the river, and visit the elevated footbridge which offers excellent views of the gorge.
On Ritter Island you can take a self-guided tour of the historic ancient barn and walk to the beautiful Minnie Miller Springs. History buffs can enjoy exploring the Kelton Trail portion of the park where you can still see deep wagon gouges in the rocks, testimony to the historic Kelton Stage Coach, which used to ferry passengers and freight between Boise and the Kelton railhead. The crystal clear waters that you can see gushing out of the rock face provide the perfect habitat for trout and you can spend many happy hours fly-fishing in one of the best trout fishing areas in America.
Romantic weekend getaways near me, spring break, places to live, what to do near me, coffee, breakfast restaurants, when you are bored, sea vacation, relaxing overnight trips, no-contact delivery, pickup, rainy day trips, cabin camping, best small beach towns to retire: Orange County Beaches, New Zealand Beaches, Fairbanks, Aberdeen, Providence, Lake George, Leesburg, Niagara Falls, Ann Arbor, Sausalito, Morrison, Puerto Rico Beaches, Athens GA, Portugal Beaches
19.Sawtooth National Recreation Area
© Courtesy of fredlyfish4 – Fotolia.com
The sensationally scenic Sawtooth National Recreation Area covers over 217,000 acres of pristine wilderness liberally dotted with soaring mountain peaks, alpine lakes, and dozens of campsites where you can pitch a tent and really get back to nature. During the short hiking season which commences with the appearance of the spectacular wild flowers in June/July, hikers can choose from dozens of trails covering over 350 miles, varying from fairly easy day-trips to challenging back-packing routes. You can also bring your mountain bike to enjoy the trails in the Minidoka, Ketchum and Fairfield Ranger Districts, where there are also several trails for horse-back riding.
Avid fishermen can try their hand at fishing in some of the many ponds and lakes or try casting a line into a stream or river to catch their dinner. Other popular summer activities are wildlife watching (there is a great variety of wildlife in the forests including wolves, many species of deer and various small mammals), photography and canoeing, rafting and kayaking along the scenic waterways. Children (and adults) can attend various educational programs at the Learning Center or participate in ranger-led activities. In winter, the entire Sawtooth National Recreation Area is blanketed in snow and becomes a hotspot for winter sport fanatics, and you can try downhill skiing, snowboarding, snowshoeing and snowmobiling throughout the area.
You are reading "25 Best Idaho Destinations" Back to Top or Getting married, lunch near me, romantic things to do, places around me
Weekend trips, what is a great day trip destination, couples getaway, romantic hotels, unique places to stay, East, North, West, South, cheap getaways, staycation, must visit islands, botanical gardens, hamburgers, bbq, snowboarding, skiing, trailer parks near me, hot springs, quick trip: Alaska resorts, West Virginia resorts, Wasilla, Ketchum, best lakes in Idaho, Idaho Resorts, Delaware Water Gap, Newark, Things to Do in Wilmington
20.Idaho Destinations: Mesa Falls
© Courtesy of pbaird – Fotolia.com
The beautiful and dramatic Mesa Falls are situated in the Caribou-Targhee National Forest, approximately 13 miles north-east of Ashton, and can be easily accessed via the renowned Mesa Falls Scenic Byway. Both the Upper Mesa Falls and the Lower Mesa Falls can be viewed from several viewing platforms, including an accessible boardwalk which starts at the historic Mesa Falls Visitors Center. It is encouraged to get there on a sunny summer morning when the Upper Mesa Falls is usually decorated by a stunning rainbow.
From the upper view site you can walk the Mesa Falls Nature Trail which winds through the forest to the viewing platform above the Lower Mesa Falls, and features interpretive stops along the way – remember to pick up a map at the Visitor's Center. You can get more sensational views of the Lower Mesa Falls when you continue one mile south on the Mesa Falls Scenic Byway to the Grandview Overlook.
At the Harriman State Park (just 11miles north) you can enjoy hiking, fly-fishing, horse-riding and excellent wildlife viewing, and if you venture a little further to Island Park, you can choose from a great variety of outdoor pursuits including off-road vehicle trails and boating and fishing on Park Reservoir or Henry's Lake. You can pitch your tent or park your RV at several campgrounds in the area.
Romantic places near me this weekend, all inclusive, live music, unique shopping in town, nightlife for tourists, caves, snow, resort, hotel, fishing spots near me, romantic restaurant, trailer park, museums, springs, island, light house, brunch places near me, fish, attractions near me: Idaho mountains, Largest Cities in Idaho, Wedding venues in Idaho, Delaware breweries, Lakes in Arkansas, Arkansas wedding venues, Arkansas vacation, Van Buren, Arkansas, Mountains in Arkansas, Mount Ida, Things to Do in Mena, Arkansas
21.Ponderosa State Park
© Courtesy of Jill- Fotolia.com
Ponderosa State Park is nestled around beautiful Payette Lake, promising visitors a wide variety of activities for every season, which makes it an ideal back-to-nature getaway destination close to McCall, Idaho. In summer you can spend hours hiking or cycling the many trails by yourself or with a guide, enjoying picnics and excellent bird-watching along the way. For a change from hiking, you can hire a canoe or kayak and take to the tranquil waters of Payette Lake. Other activities for the whole family include horseshoes, volley ball, fishing and evening ranger-led campfire programs. The on-site McCall Outdoor Science School offers week-long Summer Field Science Expeditions for adults and Adventure Day Camps for three to nine-year olds in summer.
You can pitch your tent or park your RV at a serviced campsite and enjoy cooking your food over the outdoor fire-pits, or rent one of the six fully-equipped cabins. The campsites are closed in winter, but there is plenty of accommodation in McCall. In winter, the entire area is blanketed in snow and the focus changes to winter sports, including Nordic skiing on one of two USSA-certified cross-country courses. You can explore over 12 miles of groomed trails which range from recreational to challenging. You can also enjoy snow shoeing on-site and snowmobiling, snow tubing and many other snow sports in nearby McCall.
Day trips from, guided vacations, essential facts, solo destinations, vacation spots for seniors, pictures, bar, what is open near me, good places, top 10 state park, prayer, lighthouse, shores, waterparks, state park, vegan, food around me, indoor pools, hike, black sand beach: Idaho hot springs, Delaware resorts, Delaware wedding venues, Conway, Peterboroug, Ocean City, Russellville AR, , Stowe hotels, Wisconsin lakes, Things to Do in Appleton, WI, Things to Do in Eau Claire, Things to Do in Ruidoso NM, Santa Fe Inns, Santa Fe restaurants
22.Sawtooth Wilderness
© Courtesy of Gregory Johnston – Fotolia.com
Nature lovers, campers and other outdoor enthusiasts need look no further than the magnificent Sawtooth Wilderness for their next back-to-nature adventure. The Sawtooth Wilderness covers over 217,000 acres of land and originally became a protected area way back in 1937, forming part of the Sawtooth National Recreation Area.
You can explore this pristine wilderness on foot, by mountain bike or even on horse-back, returning each night to camp under the stars at one of the many campsites dotted throughout the wilderness. Hikers can prepare to explore over 350 miles of cleared trails, which vary from easy family-friendly nature walks to steep and challenging hikes up to some of the 400 glacial lakes at higher altitudes. The entire wilderness is intersected by streams, rivers and lakes where budding fishermen can cast their lines. If you prefer to explore by bike you can go mountain biking along prepared trails in the Minidoka, Fairfield and Ketchum Ranger Districts and there are also dedicated trails where you can go horse-back riding through the wilderness. You can also try canoeing, kayaking and rafting.
Both adults and children can learn about the environment by visiting one of the Visitor's Centers such as the Redfish Lake Visitor's Center (in summer) to take part in daily activities which include evening campfire programs. In winter there are various activities including ranger-guided snowshoe hikes and much more.
You are reading "25 Best Idaho Destinations" Back to Top or More romantic weekend getaways, more places of interest in, wedding venues near me, time zone, what to do
Romantic resorts, dog friendly cabin, boutique inn, B&B, hostel, photos, maps, discounts, conference, couples retreat, shows, good food near me, things to do with kids near me, weather, airport, vegetarian, seafood, breakfast near me, indoor, outlet mall: Gulfport, Wayne, Yachats, North Charleston
23.Idaho Destinations: Lewiston
© Courtesy of Jasperdo – Fotolia.com
Settled in a canyon where the Snake and Clearwater rivers merge, Lewiston is a quaint town with an Old West feel, which is not surprising – Lewiston traces its origins to the Lewis and Clark Expedition. The famous explorers came to the area in 1805, and two neighboring towns became Lewiston and Clarkston. Besides whitewater rafting, fishing, kayaking, tubing, swimming, and canoeing on the two rivers, more adventures await at Hells Canyon, America's deepest canyon.
In addition to adrenaline pumping rafting or boating into the gorge, you will be able to see 2,500-year-old Native American carvings on the walls of the canyon, and you can learn about the history of the area at the Nez Perce County Historical Society & Museum. The famous Clearwater River Casino offers different kind of adventure. Visit the fascinating Lewis-Clark Center for Arts & History for more knowledge or the Clearwater Canyon Cellars boutique winery for some excellent samples.
Romantic date ideas, interesting historic road trip, food, beautiful beaches near me, falls, get away, hotel, activities near me, state parks, dog friendly restaurants, zip lining, indian food, cabins, Italian, Indian restaurant, fall, cool, fun, things to do near me today, fishing charters, all inclusive vacations, warm and cozy restaurants, places to travel: Tampa Bay, Naples, Jersey Shore Beaches, Fort Myers, Long Island, West Palm Beach, Hamptons, St Croix, St Petersburg
24.St. Anthony Sand Dunes
© Courtesy of jimjaycrowder – Fotolia.com
Located 50 miles west of Idaho Falls, the St. Anthony Sand Dunes provide the ultimate playground for OHV enthusiasts, campers and other nature lovers. The white quartz sand covers an area in excess of 10,600 acres, which is home to some of the most beautiful and thrilling sand dunes in the United States. If you enjoy camping you can pitch your tent at the Elgin Lakes Campground, where each site is equipped with a picnic table and fire pit. If you are planning on bringing your RV, the Sand Hills Resort or Idaho Dunes RV Park can provide all the facilities you need for a comfortable stay.
The main activity revolves around riding the dunes in a wide variety of off-road vehicles, and you can rent one on-site from Adventure Dune Rentals, if you do not have your own. There are dunes for all levels of experience ranging from gentle slopes for beginners to really challenging near-mountains of up to 425 feet high that require skill to conquer. Other fun activities you can enjoy on the dunes include sand-boarding, hiking, nature observation (you will be amazed how much life the apparently barren dunes support) and horse-riding. There are several nearby attractions that you can visit for a change of pace including the dramatic Mesa Falls on the Snake River and Yellowstone Bear World (for self-drive wildlife viewing).
Book your trip, outside & indoor activities, inexpensive things near me, kid friendly popular scenic places, vegan restaurants, breakfast places near me that are open, affordable biggest cities, getaway, what's near me, romantic getaways tomorrow, excursions, art, tours, towns: Cockeysville, Afton, Wellsboro, Blowing Rock, Farmington Hills, Klamath Falls, Marlinton, Fort Washington, Coffee Shops in Anchorage, Day Trips from Minneapolis, Kentucky Day Trips, Bay Area, Central Point, Michigan Day Trips
25.Morley Nelson Snake River Birds of Prey National Conservation Area
© Courtesy of kreulen – Fotolia.com
At the Morley Nelson Snake Rider Birds of Prey National Conservation Area you can hike deep into the heart of a pristine natural place that attracts one of the densest concentrations of breeding and nesting raptors in the world. Every spring over 800 pairs of falcons, eagles, hawks and owls descend upon this scenic conservation area to mate and breed, making it the ideal destination for bird-watchers, photographers, hikers and all nature lovers.
At Dedication Point, overlooking the rim of the Snake River Canyon, you can get great views of some of the nesting sites and walk the short 1/4 mile interpretive trail. Hikers, bikers and horse-riders can enjoy several trails along the Halverson Bar, a 2-mile sandbar adjacent to the Snake River, which passes remnants of old mining sites and homesteads, and at Halverson lake you can go canoeing, kayaking and fishing.
The Cove Recreation Site is another place where you can fish, swim, hike and enjoy both motorized and non-motorized water sports in addition to wildlife viewing and picnicking, and you can set up your tent or park your RV at the camping facility on the south shore of the C.J. Strike Reservoir. At Swan Falls Dam you can see the historic old hydroelectric plant, go fishing and have a picnic.
Family getaways, birthday, anniversary for couples, three day weekend, vacation deals, places to visit near me, romantic reception venues, burgers near me, cave, garden, money, capital, amusement parks near me, getaway trip, ocean, tent, RV camping, holidays, dinner places near me: Marshfield, Menomonie, Waupaca, Minocqua, New Glarus, Lake Mills, Mineral Point
25 Best Idaho Destinations
Boise, Photo: Courtesy of Sergey Novikov – Fotolia.com
Idaho Falls, Photo: Courtesy of searagen – Fotolia.com
Coeur d'Alene, Photo: Courtesy of Gregory Johnston – Fotolia.com
Pocatello, Photo: Courtesy of jamespaulsen – Fotolia.com
Salmon, Photo: Courtesy of Parilov – Fotolia.com
Sandpoint, Photo: Courtesy of jfergusonphotos – Fotolia.com
Mountain Home, Photo: Courtesy of Jimmy Emerson, DVM – Fotolia.com
Meridian, Photo: Courtesy of knowlesgallery – Fotolia.com
Idaho Destinations: Nampa, Photo: Courtesy of knowlesgallery – Fotolia.com
Ketchum, Photo: Courtesy of vividcorvid – Fotolia.com
Sun Valley, Photo: Courtesy of Steve Dorsey – Fotolia.com
McCall, Photo: Courtesy of Jasperdo – Fotolia.com
Craters of the Moon National Monument & Preserve, Photo: Courtesy of Wirepec – Fotolia.com
Idaho Destinations: Shoshone Falls, Photo: Courtesy of Peter Graham Fotolia.com
Yellowstone National Park, Photo: Courtesy of norbel – Fotolia.com
Bruneau Dunes State Park, Photo: Courtesy of rck – Fotolia.com
Hell's Canyon National Recreation Area, Photo: Courtesy of Zack Frank – Fotolia.com
Thousand Springs State Park, Photo: Courtesy of larson755 – Fotolia.com
Sawtooth National Recreation Area, Photo: Courtesy of fredlyfish4 – Fotolia.com
Idaho Destinations: Mesa Falls, Photo: Courtesy of pbaird – Fotolia.com
Ponderosa State Park, Photo: Courtesy of Jill- Fotolia.com
Sawtooth Wilderness, Photo: Courtesy of Gregory Johnston – Fotolia.com
Idaho Destinations: Lewiston, Photo: Courtesy of Jasperdo – Fotolia.com
St. Anthony Sand Dunes, Photo: Courtesy of jimjaycrowder – Fotolia.com
Morley Nelson Snake River Birds of Prey National Conservation Area, Photo: Courtesy of kreulen – Fotolia.com
Cover Photo: Courtesy of Peter Graham – Fotolia.com
More Ideas in Idaho: Silver Mountain Resort
Located in Kellogg, Idaho, Silver Mountain Resort offers visitors a wealth of outdoor adventures for any season. Skiing, biking, hiking, and swimming are just a few of the activities visitors can look forward to at the resort. In addition, the surrounding vicinity of the resort is full of scenic and historic attractions that are bound to inspire future visits.
Winter Activities
Visitors planning their trip to Silver Mountain resort in the winter time will be pleasantly surprised by the ample acreage and short wait-times on offer. This is largely due to the fact that the resort is home to two peaks: Kellogg and Wardner. While both receive an average of 300 inches of snow annually, together they provide 1,600 acres of terrain, which contains 73 trails. Those new to alpine sport can acquire tutelage through the resort's ski and snowboard school, where both private and group lessons are offered. On the other hand, seasoned skiers and snowboarders can practice challenging jumps in the resort's terrain park. Visitors looking for an alternative to skiing and snowboarding can take advantage of the snow-tubing offered at the resort on weekends and holidays.
Summer Activities
With a range of trails for riders of every experience level, Silver Mountain Bike Park is a popular summer destination for downhill mountain bikers. Visitors lacking the proper equipment to try this thrilling endeavor can rent downhill and trail bikes, pads, helmets, and anything else they may need to get started. For these riders, the most appropriate trails can be found in Chair Zone 3. Here, they will find both single and double track trails. Zone 3 also accommodates more experienced riders with trails such as the Hammer, Log Jamming, and Hot Mess, which include jump lines. One of the biggest perks of the Silver Mountain Bike Park is its gondola, located at Gondola Village. Conveniently placed in the midst of numerous dining and entertainment options, bikers can access everything they need for their stay in one place.
The scenic beauty of Idaho offers the perfect backdrop for the Galena Ridge Golf Course, which can be found among the mountains of Silver Valley. This nine-hole course is bound to impress and challenge golfers of any skill level. While the construction of a clubhouse is planned, for now visitors can rent all the necessary equipment for their golfing needs at the temporary clubhouse.
Indoor Waterpark
A lazy river, warm currents, and heart-palpitating water slides are just a few of the attractions visitors can try at the Silver Mountain Resort Indoor Waterpark. Perfect for group gatherings, the semi-private cabanas are a perfect way to spend time with loved ones indoors. With lots of child-centered activities, even young swimmers will be entertained at the waterpark. One of the most unique features of the waterpark is the Flow Rider attraction. This is a continuous wave on which visitors can practice boarding or surfing.
Outdoor Adventures
The area surrounding Silver Mountain Resort is aptly named Silver Valley on account of the mine sites long established there. Today, visitors have a variety of options when it comes to exploring this historic region of Idaho. Located just a short walk from the resort, visitors will find the Shoshone County Mining & Smelting Museum. There they can view a variety of artifacts from the dawn of the golden age of mining in Idaho. For a more hands-on experience, the town of Kellogg also offers a tour of a real mine site at the Crystal Gold Mine. The neighboring towns of Wallace and Murray also have a variety of mining-related attractions, such as the Sprag Pole Museum, Sierra Silver Mine tour, and Wallace District Mining Museum, to name a few.
The rivers of northern Idaho and western Montana are a perfect spot for river rafting adventures. Cutting through a deep canyon, the Clark River offers rafters unparalleled views and a chance to travel through its warm waters at a manageable pace. During a day trip on the Clark River, visitors are likely to spot bald eagles and songbirds as well as deer, elk, and beavers.
Lodging
Visitors planning a trip to the Silver Mountain Resort are welcome to stay at the Morning Star Lodge. This vacation rental and resort condominium development boasts rooftop hot tubs, public meeting places with fireplaces, access to a fitness center, and a complementary pass for the resort's indoor water park. With floor plans ranging from studios to two bedroom suites, the resort can accommodate singles, couples, families, and close-knit groups.
610 Bunker Avenue Kellogg, ID 83837, Phone: 866-344-2675
You are reading "25 Best Idaho Destinations " Back to Top
More Ideas in Idaho: The Route of the Hiawatha
Located near Avery, the Route of the Hiawatha is a 15-mile mountain biking and hiking trail operated by the Lookout Pass Ski Area, traversing the historic Milwaukee Road, widely considered to be one of the most picturesque stretches of railroad route in the American West.
History
By the end of the 19th century, the Chicago-based Milwaukee Road railroad operated more than 6,000 miles of railroad track throughout the American Midwest. As a result of industry competition, the company proposed a new line through the Bitterroot Mountains of Idaho and Montana, a territory previously uninhabited and uncharted by Americans. Exploration and surveying of the area began in 1904, with sites for a line chosen by the end of 1906. Nearly 9,000 international immigrant workers participated in the construction of the line, which took five years to complete at a cost of $234 million. Difficult working conditions, including extreme weather, plagued the railroad's construction, and a and a devastating fire in August 1910 prompted the railroad company's decision to use electric locomotives across a 440-mile stretch of the route, the first company in the United States to do so.
Despite its recognition for technological innovations, the railroad was plagued with financial difficulties throughout its operation, including two bankruptcies and a number of service reductions. Operation of high-speed Olympian Hiawatha trains from 1947-1961 century provided some rebounding, but in 1977, the company declared bankruptcy for a third and final time, resulting in the line's abandonment by 1980. The route was purchased by the Lookout Pass Ski Area in the 1990s and reopened as a passenger hiking and biking trail, named after its famous Hiawatha trains, with the first stretch of trail opened to the public in 1998.
Attractions
Today, the 15-mile trail encompasses the abandoned track and features of the original Milwaukee Road train route, stretching from St. Regis, Montana to the area between Pearson and Avery, Idaho. The route traverses 10 tunnels and seven trestles of the train's route, beginning with its most notable landmark, the St. Paul Pass Tunnel, which runs 1.66 miles underneath the Bitterroot Mountain range. Briefly closed for repairs in 2001, the tunnel is now fully wheelchair-accessible and can be entered via the route's East Portal, which offers a parking area near Interstate 90. A sign inside the tunnel marks the location of the Montana-Idaho state line, and a scenic waterfall is located near the tunnel's West Portal. For riders wishing to skip the tunnel, Forest Service Road 506 provides a bypass to the Roland trailhead.
After the tunnel, a 13-mile Idaho Trail stretches from Roland to Pearson at the North Fork of the St. Joe River, containing eight tunnels and all of the route's high trestles. An easy grade gravel road follows Loop Creek downhill from an elevation of 4,160 at the entrance to the West Portal to Pearson's 3,175-foot elevation, with the section between Moss Creek and Pearson only available to foot and bike traffic. At the end of the route, shuttle buses are provided to take riders back to the trail's beginning.
Trail passes and shuttle bus tickets may be purchased at Lookout Pass Ski Area, which is located near Wallace, Idaho off of Interstate 90. A mountain bike rental shop is also available, offering lighted bikes for travel through the dark tunnel. Campground spaces are available at the start and end of the trail for riders and hikers seeking overnight experiences. The trail is closed during the winter months due to weather conditions, although several other area trails offer year-round service.
Lookout Pass Ski Area
As the second-oldest skiing lodge in the American Northwest, Lookout Pass Ski and Recreation Area operates Thursday through Monday throughout the winter skiing season, offering recreational slope use along the 5,650-foot Runt Mountain. Opened in 1935, the ski area operates as part of a special-use permit agreement with the United States Forest Service within the boundaries of the Idaho Panhandle National Forests, offering easy, intermediate, and expert runs along the Montana and Idaho sides of the mountain. The park is divided into two terrain areas, the Huckleberry Jam beginner progression park and the natural Rolling Thunder park, which features a 1,1111-foot quarter pipe.
Inside the historic lodge, a cafeteria-style grill and deli offers American and international fare, including the resort's famous Lookout Chili. A loft lounge serves bar fare and a selection of draft beers, with big-screen televisions broadcasting sporting events. A gift shop sells ski and riding apparel and amenities, and bag lunches are offered as to-go service for trail riders. The lodge serves as an official visitor center for the Idaho and Montana areas, providing maps and tourist information, and RV parking for trail riders and other visitors is provided. Several area hiking and adventure trails embark from the lodge, including excursions to Stephens Peak, and a number of free family events and holiday celebrations are presented throughout the year.
P.O. Box 108, Wallace, ID 83873, Phone: 208-744-1301
You are reading "25 Best Idaho Destinations " Back to Top
Auto Amazon Links: No products found.
Auto Amazon Links: No products found.
Auto Amazon Links: No products found.